Social media marketing has become an increasingly popular way to engage and educate your patients.
It's more important now than ever before to have a strong social media presence. Especially in healthcare, patients are searching for dental practices on their socials to validate the practice, learn more about the doctor, and review their engagement. For example, someone researching popular cosmetic treatments such as porcelain veneers or smile makeovers, will be interested in reviewing before and afters before calling to book a consult.
This "validation check" is sometimes what makes a patient decide whether to proceed with calling your practice for treatment or going with your competitor.
Where are my dental patients coming from?
In terms of new patient traffic, your website still stands as the dominant source. This is why your dental website should be high-converting and patient-centric.
Our Smile Marketing-built websites are strategically geared to attract and convert new patients for dentists.
In a study of over 32,000 internet users of our clients' websites, we tracked the unique journey of dental patients to understand where they were coming from and what was important to them in terms of content and website features.
We found over 89% of new patient traffic came through search engines like Google.
So, we're not saying that social media is the primary channel to grow your dental practice and increase new patient flow. However, it is in fact a channel that more and more patients are "checking" as part of their research when looking for a new dentist.
At the end of the day, you want to maximize new patient conversion and to do this, you're going to want to have a social media presence for your dental practice.
What are the benefits of social media for Dentists?
Given that 1.73 billion people use Facebook alone and spend just under an hour on the platform every day, there's definitely some benefit to you as a business owner to be active on the platform.
Here are some of the benefits of having a social media presence for your dental practice:
It creates brand awareness in your local jurisdiction
It creates a sense of community and increases engagement between you and your patients
Sharing links to your website on social media may positively impact your SEO by encouraging traffic and engagement
You can easily publish practice news and notices
It builds trust between patients and your brand
Strengthens your overall online presence
Now, this is great if you have the time to think of creative dental content, create graphics, write content, and then schedule it each day to your Facebook and Instagram pages… But what if you don't have the time?
Good news… Smile Marketing understands this struggle, which is why we recently launched our new and exclusive Social Media Content and Scheduling Platform.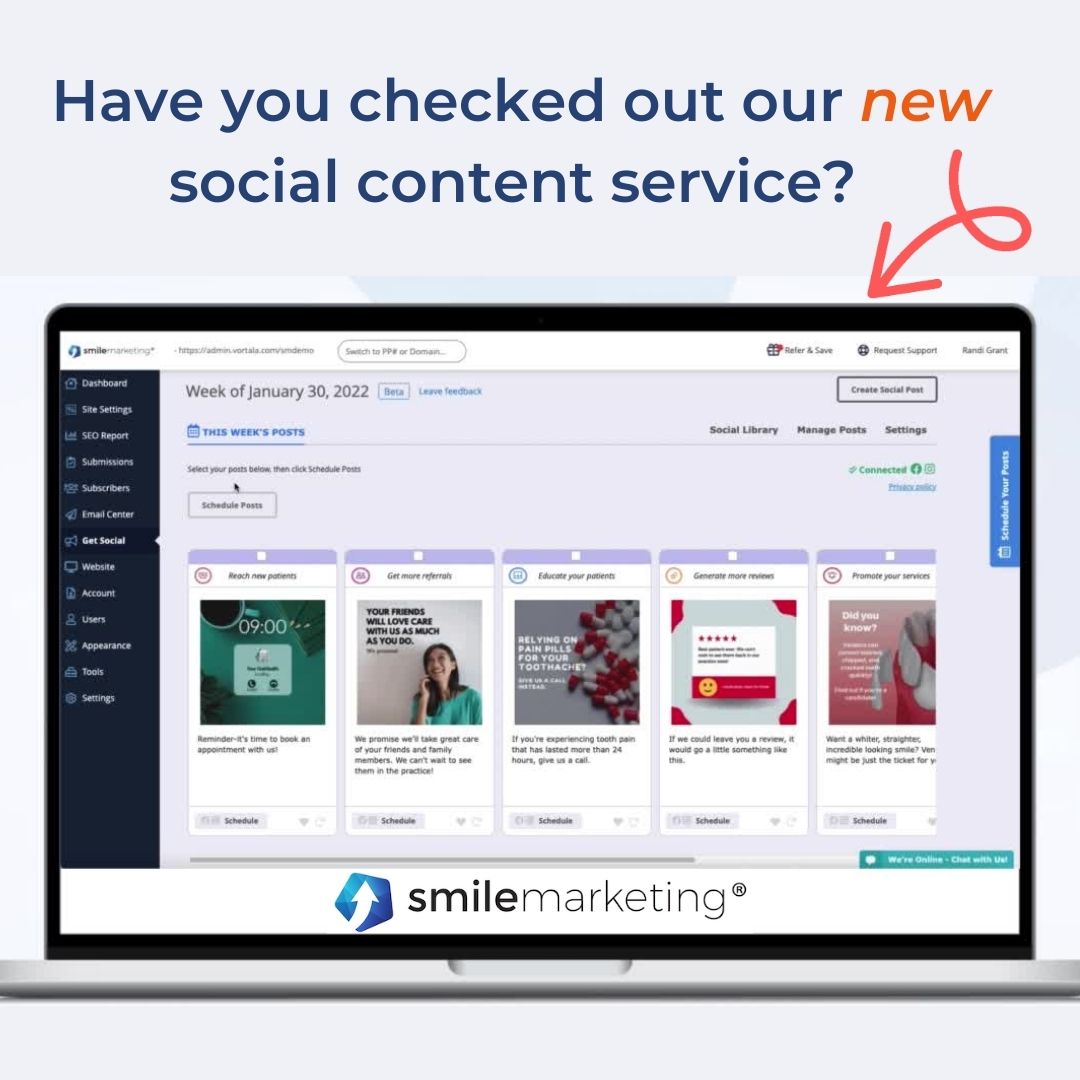 It's a unique platform where we consistently create new and engaging posts for you and with a few clicks of your mouse, you can schedule them to post to your profiles. All you need to do is approve the posts and pick the day and time you want them to publish!
The best part – It's effortlessly integrated with your Facebook AND Instagram accounts.
No need to jump between your phone and between platforms, you just hit the publish button and we take care of the rest.
See Our Social Content Platform in Action!
You can take advantage of our social media service included in our Premium Plan. Or, you can add it to your Essential Plan for a small fee each month.
Not a Smile Marketing client? That's okay, you too can use our Social Media service from only $49 per month!
To maximize your new patient results, you should consider our dental website and marketing packages.
Ready to increase brand awareness, capture more new patients and have long term trusting relationships with your patients?