Custom Dental Websites That Turn Visitors Into New Patients
Amplify your brand online to attract the types of patients you love seeing.
Do you ever ask yourself…
How do I get my website to better reflect my practice?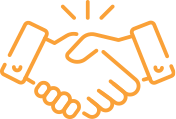 Why Choose Smile Marketing?
Our success is a by-product of your practice achieving its new patient goals. The core of our company DNA is a growth mindset and we're looking to partner with like-minded practice owners ready to see practice growth like never before.
How do we achieve practice growth?
Through our proven 5 Factors of Digital Marketing Success® model. We start with a high-converting practice website, then focus on expanding your digital reach with proven strategies to increase website traffic and generate more 5-star reviews, email marketing campaigns to nurture patients and boost referrals, and social media content that engages your audience.
Dominate Online With a High-Converting Dental Website and Results-Driven Digital Marketing
Successful digital marketing starts with a custom, high-converting website. It is the hub of all your marketing efforts. Add in tried-and-true digital marketing strategies and you'll be seeing growth like never before!
Do you want:
More new patient bookings?
An increase in referral patients?
More 5-star online reviews?
Improved patient retention?
Increase in upsell opportunities?

Client Success Story
Dr. Peter Raymond of Blockhouse Bay Dental Centre explains the challenge he was facing before working with Smile Marketing and the new patient results he's seeing:
Prior to utilizing your services, we were relying so much on word-of-mouth and referrals, but could not see sustainable growth in the number of new patients. Now my practice has an integrated, multi-platform approach. We have seen a 228% growth in new patients since starting with Smile Marketing almost 3 years ago. Dr. Peter Raymond
WEBSITE TRAFFIC

500% INCREASE
Dr. Raymond's old website was getting about 100 visitors per month. With their optimized Smile Marketing website, they're now consistently getting over 500 organic visitors per month.
NEW PATIENTS

228% INCREASE
When Dr. Raymond came to us, he was seeing modest new patient numbers each month. Now, on the Smile Marketing Premium Plan with PPC, they are averaging 98 new patients per month!
GOOGLE ADS

5X INDUSTRY STANDARD
Their Google Ads campaigns, managed by our expert team, are blowing the competition out of the water. They are averaging a 10% click-thru-rate (industry standard is 2%) and a 20% conversion rate!
Ready for results like these?
FREE EBOOK
Discover 10 Ways To Get New Patients from the Internet.
Put the internet to work for you and get new patients—without spending thousands on ads or stressing over social media.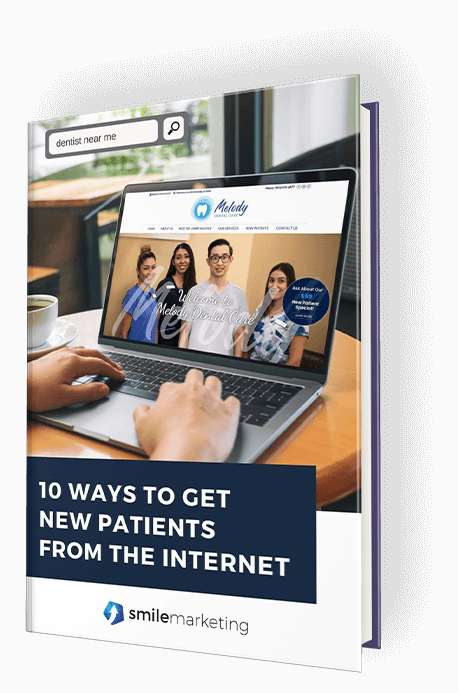 Dominate online with a high-converting website and marketing plan
ESSENTIAL PLAN The foundation for referral-based practices
POPULAR FEATURES:
Custom website design & hosting
Professionally written content
Essential on-page SEO
Monthly patient newsletter
New Patient Survey
PREMIUM PLAN For ambitious practice growth & new patient results
ALL THE FEATURES OF ESSENTIAL, PLUS:
Professional photography
Social media content & scheduler
Advanced SEO
Dedicated Account Manager
New Patient marketing strategies
ULTIMATE PLAN For fast-growing practices in
competitive jurisdictions
ALL THE FEATURES OF PREMIUM, PLUS:
Area exclusivity
Dedicated SEO Specialist
Call tracking & conversion coaching
Advanced link building
Pay-per-click ad setup
What dentists are saying about Smile Marketing
"Everyone at Smile Marketing has been wonderful to work with and always very helpful. Highly recommend this company. "
Amy C., Palmetto Smiles of Charleston
"We've seen an increase in new patients from the website and every time I send in a request, it is handled in a prompt, professional manner!"
Katie Turley, Sea Brite Dental
"The process was easy and we're impressed with how warm and friendly the content reads! It clearly reflects Dr. Barwick's personality and the atmosphere of the practice."
Patricia Fox, Ian Barwick, DMD
Ready to Dominate Online and Grow Your Practice?
Want to concentrate more on dental work than you do on getting new patients?
Want to feel proud every time you give someone your URL?
Want to know potential patients can Google "dentist near me" and your practice shows up in the top results?
Want to have a world-class, comprehensive digital marketing company take all of this off your plate?
Great, doctor. You're in the right place.