Social media. It's hip. It's cool. It's a sexy marketing channel that'll produce a flood of new patients for your practice. Right?
Sorry, not going to happen.
Sure, Facebook has a host of benefits. But the notion that Facebook delivers new patients is arguably the biggest misconception in the online marketing world today.

Dental Facebook Marketing isn't a New Patient Generator
With more than a billion active monthly users, Facebook is by far the most popular social media network in the world. But Facebook hasn't delivered on its early promises for being a robust marketing tool (unless you hand over some money).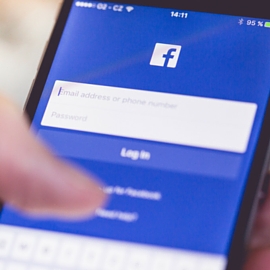 And don't just take our word for it. It's a conclusion arrived at by some of the top marketers in the world.
Survey results from Forrester aren't too encouraging for dentists looking to grow their practice through Facebook. About 400 marketers from the U.S., U.K., and Canada were surveyed about the business value they gained from 13 different social media sites and marketing strategies.
Facebook finished dead last, shadowed by Twitter, YouTube, and a range of online marketing initiatives.
In an open letter to Facebook founder Mark Zuckerberg, principal analyst at Forrester Nate Elliot had this to say:
"Everyone who clicks the 'like' button on a brand's Facebook page volunteers to receive that brand's messages – but on average, (Facebook) only shows each brand's posts to 16 percent of its fans."
That was in 2013. Today, that number has plummeted to a whopping three percent.
Above all, you must have a "conversion-friendly" practice website – coupled with a comprehensive strategy that includes blogging, SEO, email marketing, and social media – to produce a consistent flow of your ideal patients.
Why Facebook "Doesn't Work"
Where would you go to find an accountant? Would you go to Facebook?
Doubtful.
Most likely, you'd head to Google.
Google is the number-one source of new patients. From a simple search, prospective dental patients have the ability to compare several practices with just a few clicks. They can read through pages that detail special techniques, learn more about a dentist, and read blog posts that showcase a dentist's knowledge and philosophies.
Meanwhile, on Facebook a prospective patient would already have to know your name to find you. And even if they did, what would they discover? Facebook isn't designed to host pages and blog posts. Not to mention, how far will your 20-word post on dental dams get you?
We market for dentists all day long. And based on research from thousands of client websites, we've found that Facebook delivers a mere two percent of all new patients.
The myth that Facebook produces new patients is just that – a myth.
Where Dental Facebook Marketing Does Deliver
Now, for the benefits…
Dental Facebook marketing is best viewed as an internal marketing tool. It's a way to stimulate community and nurture existing patient relationships. With Facebook, you can increase profitability in three ways:
Patient retention: Staying in touch with patients who follow you encourages repeat office visits.
Upsell opportunities: Educating patients on their oral health allows you to upsell your services.
More referrals: An active social presence boosts top-of-mind awareness, which reminds patients to refer you when the time presents itself.
How do you achieve these goals? At Smile Marketing, we've found that dental clients who benefit most from Facebook follow these guidelines:
Brand your page: Just like all your marketing materials, your social media should have consistent branding. If someone visits your Facebook page after visiting your website, they should know they are in the right place.
Be active: A Facebook page that lies dormant shows a lack of commitment. Commit to posting on a regular schedule (daily or a few times per week).
Be creative: One-line posts of text don't keep followers engaged. Add beautiful photos to make your content stand out. Follow the 80/20 rule: 80 percent fun and educational (like a health tip or fun fact); 20 percent promotion (like a call for patients to schedule an appointment).
Personalise: Your Facebook page should showcase your personality. Breathe life into your page by keeping patients in the loop. Have an upcoming event, or a new staff member? Let your followers know.
Interact: Once someone "likes" your page, they can leave comments on your status updates. Furthermore, they can review your practice for all the world to see. Monitor this activity regularly and respond when necessary. Remember, the point of social media is to be social.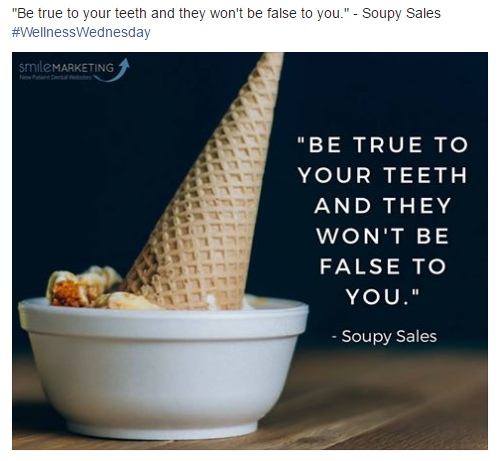 Social Media is Just One Component
Facebook should be part of your marketing mix. But it's not the first, nor is it the last, touchpoint. It aides the conversion process, but it's hardly the hero. Unrealistic expectations, proposed by sales-hungry agencies, have created this fallacy.
Facebook isn't your website. It's merely an extension of your website, working to complement your overall marketing strategy.
Say a prospective patient finds your website on Google. They learn about you and then decide to click to your Facebook page. A dull, barren page can reflect poorly on your practice.
Ultimately, when a young mother visits your Facebook page, this is what they are asking: "Do I like these people?"
Referrals play into social media in a powerful way. After all, where do many referrals come from? Oftentimes, it's an enquiry on someone's Facebook newsfeed. "I'm looking for a new dentist, does anyone have any recommendations?"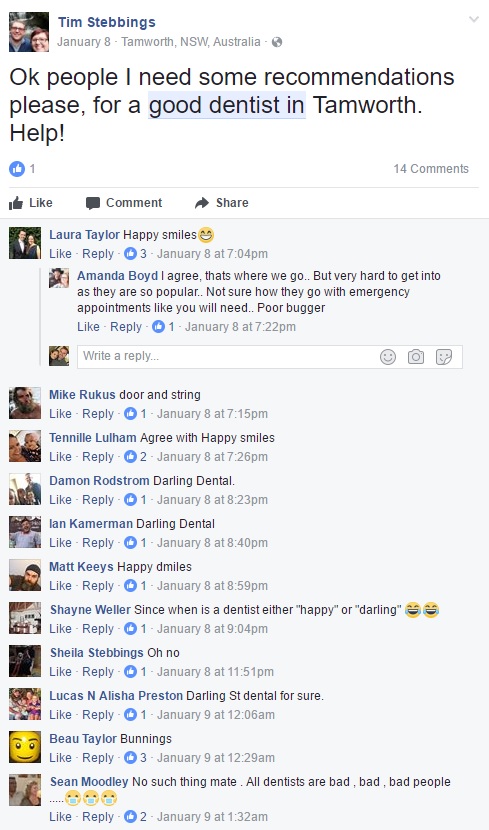 Once they get their recommendation, most likely they'll head to Google. Sometimes, though, they'll visit your Facebook page. And you better impress them.
Believe it or not, for some potential patients (particularly young mothers), your Facebook page can make or break the appointment.
Remember this: You have control over your website, your blog, your email marketing, etc. Once you post something on Facebook, it's no longer yours. Facebook decides what it wants to do with it – that is, whether they even want to give it the time of day.
The point is, when it comes to Facebook, don't be reliant and be sure to manage your expectations.
How Facebook Can Produce New Patients
As we've discussed, the only new patients Facebook typically produces is referrals.
However, there is a way Facebook can produce a steady flow of patients. You just have to pay for them.
Facebook offers a paid advertising solution that is ideal for attracting potential patients who have never heard of you. With its unique ability to target specific user demographics, Facebook is a cost-effective way to customize ads for a particular audience.
It couples interests with location so you can target only those who may need dental care near you. Are you a paedatric dentist? Set your target audience to moms and dads. Screening patients for oral cancer? Target users by age.
When running Facebook ad campaigns for our clients, the most impactful strategy we've found is something called "remarketing." With remarketing ads, we tell Facebook that we want to serve ads only to people who have already visited a client's website.
When running Facebook campaigns, we take a three-step approach:
Integration: Create an advertising strategy that integrates with a website's SEO plan to promote short- and long-term growth.
Landing pages: Develop customised landing pages to convert visitors from their Facebook ads
Unique content: Write ads that encourage relevant visitors to click and engage.
To Sum it Up…
Facebook is not a primary driver of new patients
It encourages referrals, improves retention, and presents upsell opportunities
It should be used as a way to complement your practice website
You must be active and creative to make it impactful
Its advertising platform can produce new patients with the right strategy