As a dentist, it used to be you had one reputation. Now, you have two. Offline and online.
Many dentists don't take their online reputation seriously until they get stung like this:

Conversely, there are dentists in your area who are getting most of the new patients because of this:

Who do you think prospective new patients are choosing?
To get new patients from the Internet, you must have a sound reputation.
There's no doubt about it. If you're flooded with poor online feedback, prospective patients are turning to your competitors.
People rely on online reviews more than ever, particularly in the health care field. Like it or not, most consumers trust online reviews as much as they trust personal recommendations. To be precise, 88 percent of them do.
So if you're ignoring your online dental reputation, good luck bringing more new patients to your doorstep.

The Importance of Online Dental Reviews
Even a word-of-mouth referral can be impacted by poor online reviews. After all, when someone is given a referral, what do they do? Typically they go to Google and search for the practice.
After performing this search, what will they think when your Google listing pops up with a two-star rating? It's possible that they'll trust the personal recommendation. But are they really going to ignore the 15 other people who were highly unsatisfied?
The social proof provided by online reviews and star ratings help patients expedite their research and make decisions with greater confidence.
Online reviews can be an asset or a liability. And hiding from your online reputation is a good way to lose your footing in the marketplace.
Your Google rankings are another reason you should keep tabs on your digital reputation.
The SEO world widely agrees: A positive online reputation can improve your visibility on the search engines. For example, in this Google search the top organic listings are taken by the practices with good reviews: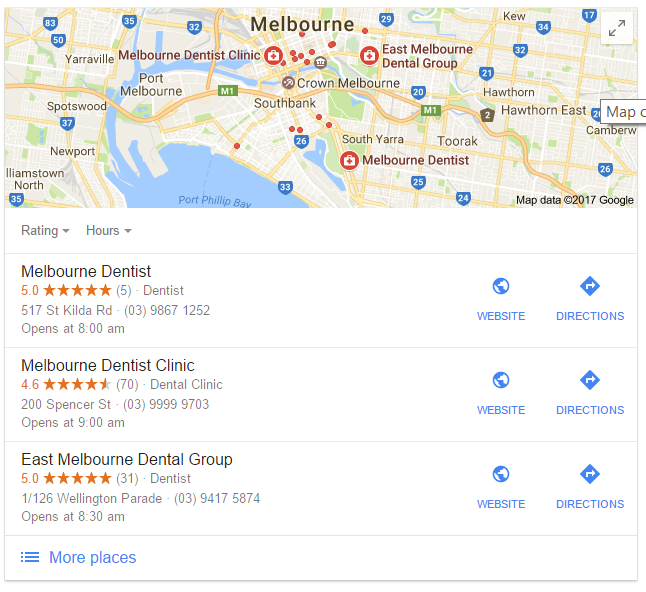 Most dentists either ignore online reviews or they respond inappropriately. Know how to deal with negative online feedback by following our three-point approach:
1. "Subpoena" Google
It's important to Google that the reviews posted on their site are authentic and reputable. Therefore, reviews that violate Google's review policies can be removed from its listings. Any time you get a negative review, first check to see if it violates these guidelines.
Here is a list of review content that Google deems inappropriate:
Advertising: Reviews should not be used for advertising, such as adding phone numbers or links to other websites.
Contact information: To prevent advertising and privacy concerns, posting phone numbers, physical addresses, and email addresses are not allowed.
Off-topic: Reviews should only be personal experiences at a business. It's not a forum for social commentary or venting about someone else's experience.
Explicit material: Obscene language and/or sexually explicit content will be removed.
Impersonation: Posting reviews on someone else's behalf is not allowed. This is a tactic often taken by marketing agencies or businesses that are seeking to taint a competitor's reputation.
Confidential information: Reviews that contain another person's personal and confidential information will immediately be removed.
2. Respond Appropriately
How do you handle the haters? The short answer: Offer a thoughtful, non-emotional response.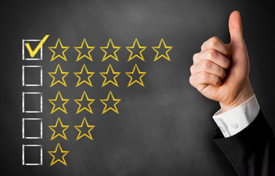 It's natural to take poor feedback as a personal attack. That's one reason most dentists refuse to even monitor their online reputation. But such feedback is published for all the world to see. And regardless of whether you see them, prospective patients are seeing them.
So suck it up. For every bad review you inherit, take the time to respond.
People aren't necessarily looking for perfection. They're looking for humanity. They're looking for a genuine response. That's why a negative review is a great opportunity to respond in a transparent and positive manner.
Handled correctly, a negative comment can draw attention to your practice's many positive qualities. For example:
I'm sorry you had a bad experience. We serve 50 patients per week, and we strive to create the best possible experience for the community. Please give us a call and we will work with you to rectify the situation.
3. Promote Positive Feedback
The third step: Bury the negative feedback by promoting positive feedback. 70 percent of consumers will leave a review if they are asked to do so.
Here are a few ideas you can implement today:
Ask for a review during a follow-up phone call
Put a sign at your front desk (with logos of the review sites you're listed on) that says, "Review us online."
List your review profiles on print materials that can be handed to patients following their appointment.
These are great traditional tactics you can use to acquire reviews. And they do in fact work. But using digital channels to improve your reputation is just as, if not more, impactful.
Email marketing is the best reputation management channel, specifically online new patient surveys. Not only do new patient surveys offer valuable information about your practice, they encourage feedback during the most critical time – when the appointment is fresh on the patient's mind.
Of course, you need the technology to implement these campaigns effectively. For instance, the Smile Marketing New Patient Survey is proprietary software that automatically gathers reviews on a client's behalf – in a manner that adheres to Google's (and other review sites') guidelines (unlike the shady tactics taken by overly-ambitious website service companies).
Here's how the New Patient Survey works:
You add the new patient to your Smile Marketing website dashboard.
A welcome email and survey are automatically submitted to the new patient.
Throughout the survey, the patient will select an emoticon that best describes their experience.
After selecting their answers, the patient is given the opportunity to provide a brief review.
The software determines the patient's level of satisfaction, and if they had a positive experience, the patient is encouraged to review your practice on popular review sites like Google and Facebook.
Your real world reputation is just as important as your online reputation. As soon as you lose trust with your digital presence, you become a non-factor in the marketplace.
But reputation management is only one piece of the online marketing pie. As you work to grow your digital reputation, there are countless dental marketing strategies you can implement today. Learn more about our Reputation Management offering.