When it comes to shopping for a new dental website, one of the first questions to surface is:
How much will it cost me?
It's a reasonable question. In short, the cost of a dental website depends on your new patient goals and what you're willing to invest to achieve them.
Below you'll learn about the many factors that go into buying a new dental website and how to find a provider that best fits your needs.

It's All About Appearance… Right?
The visual appeal of a website, and the costs associated with it, can be misleading. After all, there are online website builders available that allow you to build your own website for free. The problem is it's difficult to judge the cost of a website just by observing front-end design.
What determines a dental website's cost isn't just how it looks on the surface, but rather, what lies under the hood. Whether it has all the nuts and bolts required to generate new patients.
In other words, don't judge a website by its cover. Aesthetic appeal is just one slice of a much larger pie. You can build a "free" website and pay as little as $10 per month for hosting. But there's a cost to paying "nothing" – it's unlikely that a free website will produce new patients.
In the past, you could get away with such a "deal." But thanks to rising competition and Google's constantly changing algorithm, a patient-producing website requires an integrated marketing strategy.

Finding the Right Dental Website Company
In the website design field, there are several types of providers. They offer a wide range of services. Some are project-based. Meaning, you pay a one-time fee and once the website is completed it's handed over to you. Other dental website companies have marketing resources to support you over the long haul.
We divide these website providers into three categories:
1. Local Designer
Typically, a dentist will find a local designer through a personal referral or an online search. Local designers are a jack of all trades. They serve clients in several different industries. They might have an accountant, a landscaper, and several local retailers. You might be their first dentist.
Most local designers have a beautiful portfolio of websites. Because they don't specialise in one particular industry, they use the same strategy for all their clients.
If producing new patients is one of your digital marketing goals, templated strategies can be problematic. After all, someone looking for a dentist has different expectations than someone shopping for a new pair of shoes.
Content is a big part of this equation. If a local designer doesn't have experience writing dental-related content, the content likely won't appeal to your ideal patient. Professional content written with the patient in mind is one of the biggest factors that converts website visitors into patients.
Furthermore, local designers don't have the resources to provide ongoing website maintenance.
The benefits: You can sit down face-to-face with them. Their websites are visually appealing.
The drawbacks: No experience in the dental field. You handle marketing and website updates.
Ideal for: Dentists who aren't looking to produce new patients from their website; but rather, want a beautiful online portal for current patients to refer to.
Cost:
$2,000 – $15,000 design fee (contingent on content, number of pages, graphic design requirements, and software capabilities)
$10 – $20 per month (contingent on hosting fees)
2. Discount Product Providers
Unlike local designers, discount product providers are larger companies that exclusively serve dentists (note: some might serve other health care professions as well). Similar to local designers, discount providers offer a "product." Meaning, they build your website and the rest is up to you.
Discount providers typically have a client service team, but due to low margins many are unable to support service requests within a reasonable time. This discount option puts much of the future work on you. The "discounted" price is a false economy. Their templated solution often results in low traffic, subpar rankings, and minimal growth.
Product designers offer a decent looking product, but their websites are simply that – products. They might have thousands of clients, most of which have websites that look virtually identical. While some product designers provide some form of "marketing" support, it's often duplicated across their client base.
The benefits: Discounted pricing and experience serving dentists.
The drawbacks: Little marketing support and cookie-cutter website templates.
Ideal for: Dentists who are in low competition jurisdictions and have minimal new patient goals.
Cost:
$300 – $600 setup fee
$100 – $300 per month (contingent on client support resources)
3. Dental Service Providers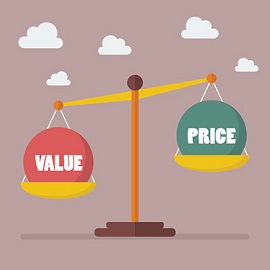 Service providers offer the best of both worlds. They design beautiful, patient-converting websites and take an integrated approach to marketing. Website content is unique to your practice and caters to your ideal patient.
Service providers market dental on your behalf by attracting prospective patients and nurturing existing patients. The result is three-fold: You improve retention, stimulate more referrals, and get more new patients.
Marketing works around the clock with an integrated digital strategy. Online initiatives may include:
Ongoing client support to keep your website fresh
SEO monitoring to improve Google rankings
Monthly newsletters to keep patients engaged
Social media content to keep your practice top-of-mind
Blog posts to improve your authority in the dental field
Online patient learning to encourage repeat appointments
Review monitoring to improve your online reputation
A patient-converting website isn't merely a form of "digital art." It's a marketing tool that works 24/7 to attract prospective patients and nurture existing patients.
The benefits: Experience serving dentists. A long-term digital marketing strategy that can support competitive jurisdictions.
The drawbacks: Setup and monthly fees are slightly higher.
Ideal for: Dentists who have ambitious new patient goals and want to improve retention and referrals.
Cost:
$400 – $2,000 setup fee
$150 – $800 per month (contingent on new patient goals and level of competition in the client's jurisdiction)
What Are You Willing to Invest?
Before the Internet, it wasn't uncommon for a dentist to invest over $1,000 a month for a yellow page ad. After all, that's where most people went to find a dentist.
Today, they turn to Google.
How much to invest in your online presence relies on several factors, including:
The competition in your jurisdiction
Your new patient goals
The state of your online presence (are you already established or are you just getting started?)