Imagine you're looking for a new accountant. You perform a search on Google. The first accountant you see has 35 raving reviews with an average 4.8-star Google rating.
You move on to the next accountant on the list. Out of the 10 reviews you observe, half of the reviewers claim their tax filings triggered an audit. They have a 1.8-star Google rating.
Who do you choose? Obviously, the first one.
A poor online reputation is a major deterrent for prospective patients searching for a new dentist. There's no doubt, if you're a 1-star dentist, your competitors are eating your lunch.
And a recent study by local SEO company BrightLocal makes the case…

Good Reviews Boost Click-Through Rates By 28 Percent
BrightLocal's latest study examines how online reviews impact click-through rates from Google search results. First, look at the study's top two takeaways:
Bumping your average star rating from 3.0 up to 5.0 yields 25 percent more clicks from the Google Local Pack (the three listings displayed near the top of a local search).
Having a 5-star rating earns you 39 percent more clicks from Google Local than having a 1-star rating.
If you don't have any Google reviews, 28 percent of the clicks on Google Local are being distributed to your competitors.
Google is emphasising the importance of online reputation management more than ever. Not only are the algorithms evolving, the search engine has introduced new features that make your reputation even more revealing.
We've observed several updates this year. For example, a few months ago Google gave users the option to filter out businesses with a low star rating: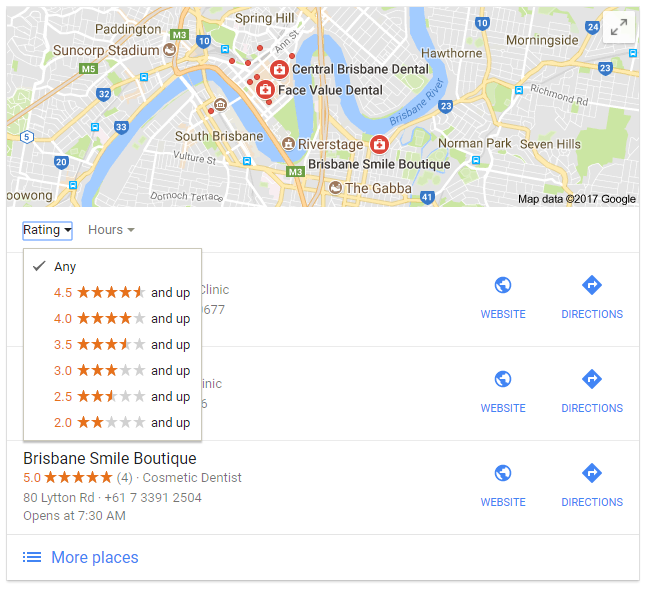 Now, if a prospective patient is looking for a new dentist, and they see they can sort by star rating, why wouldn't they eliminate all dentists with a rating lower than four?
In essence, if you're not keeping tabs on your online reputation, you're – literally – filtering yourself out of the search results.

Our Findings
With years of experience analysing thousands of practice websites, our data echoes BrightLocal's study.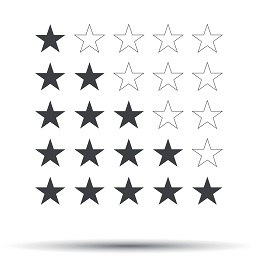 The data is clear: Smile Marketing clients with higher star ratings see more traffic on their Google My Business listings and rank higher in local search. Moreover, dentists who actively seek out good patient feedback see more "conversion-oriented" actions (i.e. learning more about your practice and then booking appointments).
You might be the greatest dentist in your area. But don't think that means your patients will be flocking to Google to reward you with a 5-star review. It's not that they're resistant. But they need to be asked.
The importance of reputation management isn't rocket science. Say that a prospective patient types in Google, "dentist in Brisbane." Your practice shows up in the local listings. You have 40 reviews with an average star rating of 4.8.
As the patient skims through your reviews, they see the social proof your current patients have provided. You are friendly, you deliver quality work, and on and on.
Before they even visit your site, there's a bug in the patient's ear telling them, "I think I can trust this dentist."

For more on managing your digital rep, check out these two blogs from our archives: