The digital world is no different from the real world. To grow a thriving practice, a good reputation is critical.
Any dentist can claim to be "the best." But not every dentist can have a robust portfolio of five-star online reviews. When it comes to attracting strangers from the Internet, your online reputation could make or break you.
Learn below why your digital reputation is important and how to generate a steady flow of five-star feedback.
Five-Star Reviews Establish Trust
Your digital reputation can be an excellent marketing tool. And it's becoming increasingly important as more dentists hop onto the Internet marketing bandwagon. The social proof that online reviews reveal help patients make decisions quicker and with greater confidence.
According to Bright Local's latest consumer review survey, people are evolving in the way they view a business' reputation. Here are a few takeaways from the Bright Local survey:
74 percent of consumers say that positive reviews increase their trust in a business
54 percent will visit a business' website after seeing positive feedback on review sites
58 percent claim star ratings are the most important element of an online review
90 percent read less than 10 reviews before forming an opinion about a business
And lastly…
Over 80 percent of consumers trust online reviews as much as they trust a personal recommendation.
How to Get Started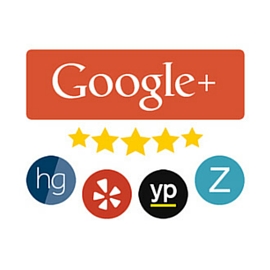 The first step to building your online reputation is to get listed on review sites (note: before doing so, verify that online reviews are permitted in your jurisdiction). Below are the top review sites to begin with:
First, search your practice name on each site to see if you already have a listing. If you are already listed, you can claim your listing and update your practice information. If you aren't listed, create a new listing and complete your profile.
Not only is it important to fill out your profile in full, your description should be concise and compelling. When writing your description, focus on this question: "Why should a prospective patient choose you?"
Also, be sure that all your listings are accurate and consistent. The three critical pieces of information on a listing are your practice name, address, and phone number.
Across your listings, your practice name should be spelled out exactly the same. Your phone number should be accurate. Your address should use the same spelling and grammar (if you abbreviate "avenue" or "suite" be sure to do so on all your listings).
Iron out every little detail.
How Not to Gain Online Dental Reviews
A good online reputation management strategy isn't reactive. It's proactive. Getting a one-star review rating can be frustrating. Therefore, it's natural that it will divert your attention. But it's important to respond appropriately and then redirect your attention to gaining new positive reviews.
Before learning how to gain online dental reviews, it's important to know how not to do so. As the number-one search engine, Google is the most important review site. When someone searches for a dentist near them, Google My Business listings often display at the top of the organic results. From there, prospective patients can see your hours, contact information, and yes – your review rating.
Now, Google wants to serve their customers with the best information. Therefore, they have stipulations for businesses that actively pursue online reviews. If you don't adhere to these guidelines, you risk getting reviews removed or having your account shut down.
According to the search engine, the following practices violate its terms of service:
Soliciting non-patients: "Fake glowing reviews" given by family, friends, or staff members do not genuinely represent your practice. Note that many SEO companies will offer to post positive testimonials on your behalf. This directly violates Google's guidelines.
Setting up an office computer station: This may seem like a reasonable tactic. It's an opportunity to capture a patient's attention when you're fresh on their mind. But it can appear manipulative if Google sees a lot of reviews coming from the same location.
Incentivising reviews with prizes: Google explicitly forbids offering any form of compensation in exchange for online reviews. Free products, gift cards, discounted services, etc. All of which violate Google's guidelines.
How to Gain Online Dental Reviews
So what can you do to improve your online reputation? Depending on the guidelines in your jurisdiction, here are a few ideas you can start doing today:
During a follow-up phone call, have your front desk politely request a review.
Put up a "Review us online" sign at your front desk. On the sign, include logos of the review sites you are listed on.
Print marketing materials that list the places where patients can review you. Provide these materials to patients following their appointment.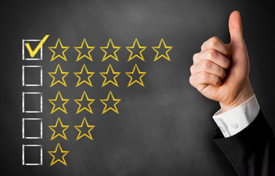 Online dental marketing is another opportunity to gain five-star feedback. And, arguably, email is the most powerful channel.
Online new patient surveys are an appropriate tactic for securing patient reviews. Email marketing software like the Smile Marketing New Patient Survey (which integrates with a client's website) automates this process. Here's how it works:
After a new patient is added to a client's website dashboard, a welcome email and survey is automatically sent to the patient.
As they go through the survey, patients will choose among five emoticons to describe their experience.
Once they've completed the survey, the patient will have the opportunity to write a brief review.
The software determines the patient's level of satisfaction, and if it is positive, the patient is encouraged to share their feedback on review sites like Google and Facebook.