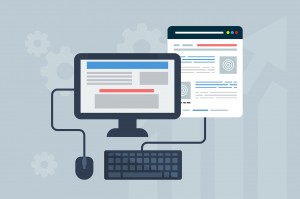 Of all of the top pages on a dental website, the About Us page is often the most intimidating. Talking about yourself can be difficult, especially in a setting where you're trying to convince potential patients that you're the right dentist for them.
Don't worry, though. Follow these simple Do's and Don'ts to get some words on to that blank web page and start converting more new patients from your website.
Do Paint a Picture for your Prospective Patients
Say that a prospective patient Googles, "dentist near me." They click through to your home page, where they get the important details of your practice and some pictures of your team and office. They've decided to learn more. Now, they're on your About Us page doing more research. They want to know what it's like to be your patient.
The "About Us" page is more about the patient than you'd think. Use this opportunity to paint the picture of what it's like walking into your dental office for the first time. The new patient journey starts on your website, where prospective patients are convinced to (or not to) schedule their first appointment.
Don't Focus on Your Credentials
While it is important to mention your credentials and education, it should not be the focal point of the About Us page. Again, this page of your dental website is about the patient.
An easy way to draw prospective patients in is with a story – your story. This will open the doors for website visitors to get to know you and develop trust in your practice (the necessary first step before scheduling an appointment).
Tell the story of why you became a dentist instead of focusing solely on the how.
Do Include Professional Photography
Putting a face to the name always builds familiarity and trust. Pictures connect with website visitors more than just words on a screen. Make prospective patients more comfortable with the idea of visiting your practice by introducing yourself with a friendly smile.
In addition to any additional doctors working at your practice, it's also good to have a photo of your entire team. While these should definitely be professional photos, they don't have to be boring. It's good to show off the personality of your practice. For example, don't wear a suit and tie in the photo if you never wear one to the office.
Don't Try to Write the About Us by Yourself
Even with all of the great advice out there, writing website copy is not an easy task. If you decide to hire a professional to write your About Us page, don't leave it all up to them.
Your dental website should capture the voice and tone of your office, which requires your own input into the copy and imagery. When working with professional copywriters and marketing companies, stay away from those that advertising successful "templates" or "fill-in-the-blank" style pages.
The goal of your website is to stand out and convert more new patients from the Internet. Using copy found on hundreds of other dental websites will not persuade patients to choose you.
Instead, look for a copywriter that will conduct an interview with you and communicate your words and voice throughout your website copy in a way that weaves marketing best practices in with your story.
Of all of the pages on a dental website, the About Us page gives the best opportunity to connect emotionally with prospective patients. If your current website is not hitting the mark, then sign up for a free digital marketing checkup with one of our experts. They'll review your website – including your About Us page – and several other factors. Then, they'll meet with you to provide actionable tips for getting more new patients from the Internet.