Did you know that visual content is one of the most powerful tools that your dental practice has to engage fans on social media? Long gone are the days of plain, text-based posts. In fact, there is evidence to show that posts with images get much more engagement (shares and retweets) on Facebook and Twitter than posts without images.
If your social media presence feels like it's hit a lull, consider the following tips for improving the visual content you're sharing.

1. It's all About Dimensions
No two social platforms are the same—and that even applies to photo sizes across today's most popular social media platforms. To make sure what you post actually looks good and makes the best impression possible on your followers, it's important to understand the varied sizing that comes into play across different websites.
Image size guidelines are often provided in pixels. Pixels are thousands upon thousands of tiny dots that make up the images you see online everyday. When sharing visual content or images, be sure to follow these standard dimensions.
Facebook 1200 x 1200
Twitter: 1024 x 512
Google +: 250 x 250 (minimum)
LinkedIn: 100 MB (limit)
Not sure how to resize an image? Upload your photo to PicResize and select "continue." Under "Resize Your Picture", choose "Custom Size" and enter the dimensions you'd like generated. Finally, save the new photo to your computer for uploading to social media.
2. Take Advantage of Free Tools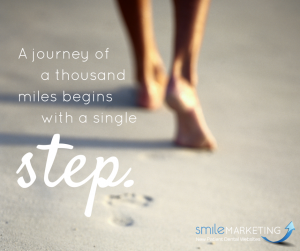 No, we're not kidding—there are actually free tools that you can take advantage of to help step up your visual content on social media. Consider user friendly Canva to create stunning imagery (even if you're not a graphic designer) to go along with blog posts that you promote. This site is also great for making text-based artwork. We created the image to the right in Canva for our own Facebook page!
Need professional images relevant to your industry or patients? Sites like FreeImages.com offer thousands of royalty free stock photography images that will help your profiles stand out from the rest. If you're looking for higher quality photos, you can visit Thinkstock.com or iStockPhoto.com, though you'll need to pay a small price for each photo you download. Whichever option you choose, always remember to NEVER use images found in a Google search as copyright infringements and their subsequent penalties may occur.
3. Step Outside the Box
Sharing visual content on social media doesn't mean you have to stick to just photos. Check out this beautiful infographic presented by the British Dental Health Foundation on how to prevent tooth decay in children.
Infographics are a fantastic way to relay information or data to your followers in a different, exciting way that can be shared on sites like Facebook and Twitter in addition to your own blog.
In addition, videos are a great way to spruce up any social media page. If you don't have a YouTube channel with videos to share, don't worry—a smartphone can help you get started! Have an office staff member film you sharing quick, thirty-second videos that address some of the most frequently asked questions you hear from patients. You can create a YouTube channel or simply share the videos directly from your smartphone onto your social media pages!
4. Show Your Human Side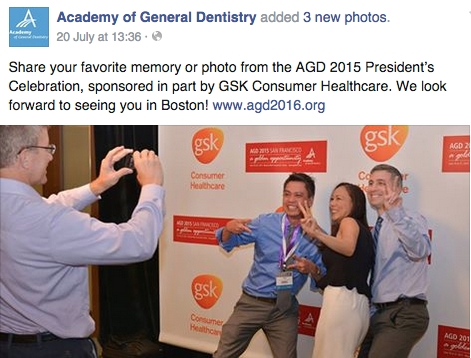 Did you order cupcakes today for a staff member's birthday? Has your practice just celebrated its 20th year in business?
You may not realize it, but patients love to see the human side of their dentists. Take a look at this Facebook post example from the Academy of General Dentistry, who engaged their fan base by sharing photos from one of their recent events and invited them to post their own.
It's good to stick with a schedule of different types of posts. Dental Products Report describes a social strategy called the "rule of thirds." This refers to the process of promotion, sharing, and conversation. Promotion would include blogs, events, announcements, and press releases. Sharing would include industry trade publications, newspapers, various studies, and information from fellow colleagues. Finally, conversation is the more creative inspiration that would come in the form of quotes, funny graphics, and behind-the-scenes photos of your practice.
Social media is designed to connect you with the people around you, and there's no better way to connect with your patients than to show a personal side.