When it comes to marketing a dental practice online, there are some common misconceptions that could cost you new patients. Today we're going to clear up three common online dental marketing myths!
Myth #1:
I have a referral-based practice, so I don't need to market my practice online.

While it's common for many dental specialists to have mainly referral-based practices, it's still important for these specialists to have a solid online presence, starting with a website.
The healthcare landscape has changed dramatically in the last several years. Referrals from doctors and friends are no longer enough. Prospective patients now go online to check the online reputation of doctors, even if their real life reputation has already been touted.
Make sure that when someone searches your name or your practice name in a search engine, that what they see is a fair representation of your practice. Your website should come up as well as any review and/or directory sites that you're listed on.
Is your practice information correct on every site? Do you have any negative reviews? Make sure everything is up-to-date and learn more about responding to negative reviews here.
If someone gets a referral to your practice, but then doesn't like what they see when they search for you online (or they can't find you online), you've likely just lost a new patient.
Myth #2:
My dental practice website looks great so there's nothing left to do.
An effective practice website is never "done." To perform well in the search engines and stay ahead of the competition, your site must be updated with new content and monitored to see where the best traffic is coming from. Review sites, directories, social media…wherever the new patient traffic is coming from, go after more.
It's also important to keep your practice website current:
Did you recently change your hours? Update it on the site.
Have a new hygienist in the practice? Add her bio to the staff page.
An accurate website with current photos of you, your office, and your staff helps you earn trust with prospective patients.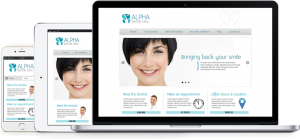 When deciding on a website provider, make sure you choose a company that offers a website service not just a website product (that they ignore once it's live) so that updates can easily be made anytime and so that work is being done consistently to ensure new patient performance.

Myth #3:
This worked for my colleague, so that's what I need to do.
Online dental marketing is not one-size-fits-all. There are many factors that need to be taken into account when developing a dental marketing strategy that includes a website, SEO, social media, and so on.
For instance, at Smile Marketing, we examine a dentist's new patient goals, competition from other dentists, and current online authority before recommending one of our website services.
What is appropriate for a dentist in the tourist town of Surfers Paradise in Queensland is going to be very different from what's appropriate for a dentist located within the hustle and bustle of downtown Sydney. An optimized website and social media presence may work well for the Surfers Paradise dentist, but the one in Sydney, a more competitive jurisdiction, may need to consider complementing those efforts with pay-per-click advertising.