2016 Predictions for Dental Website Design, SEO, and Social Media
With the New Year comes a resolution for change—sometimes we strive to eat better, work harder, exercise regularly, or if you've got a website, make weekly blog posts. Whatever it is, we do it with the hope that we can make this year better than the last for ourselves and those around us.
Being just days away from 2016, we at Smile Marketing decided to recap the online dental marketing trends this year and share our predictions for how dentists can make 2016 their best year yet when it comes to three important aspects: Design, SEO, and Social Media.

Dental Website Design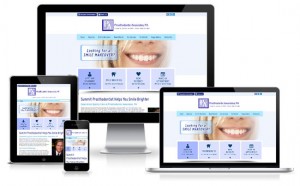 For the first time ever, 2015 revealed more mobile searches from smart phones and tablets than desktop computers. On the surface, this might not seem like much more than a fun fact, but it's especially telling for what's next in dental website design.
Expect to see the following design elements implemented in dental websites to help increase new patient conversion and user experience in 2016.
Personalization
Surprised to learn that potential patients browsing your website want to learn more about you? We didn't think so. But with such a small screen size, how can you make sure to capture the attention of a mobile searcher? An alarming number of dental websites lack one very important element: personalized content and imagery.
Making sure your website has an "About Us" or "Meet the Dentist" page is now more critical than ever. Patients not only want to know about the services you offer, but why they should select you for their treatment. They want to know that they can relate to you, feel comfortable in your office, and trust you with their teeth. And with your competitor's website just a click away, you have to stand out
Already have this page on your website? Make sure it's easy to find by showcasing it in a clickable homepage banner or by adding it to your navigation menu. Go a step further in making it personal by changing the title of the page from "Meet the Dentist" to "Meet Dr. Swift."
In 2016, trade in stock photos for custom pictures of your office, staff members, and of course, yourself! This is the best way for website visitors to immediately put a face with your name and feel connected to your practice. By personalizing the photos on your site, visitors can get a sense of who you are before stepping into your office. After all, a picture is worth a thousand words…and a few new patients, too.
Less is More
Less is more when it comes to the design of your homepage. When a visitor meets a busy design with too many options, they can become overwhelmed and fall victim to decision paralysis. Giving this type of first impression can translate into a visitor who quickly backtracks to the search results page and moves on to your competitor's website.
Think of it this way: If a website was a sandwich, your homepage is the bread that holds it together. The homepage should be inviting enough to make visitors want to delve deeper into the 'meat' of your site, but not too much so that it becomes distracting with a lot of 'toppings'.
Smile Marketing continually tests our own dental website designs to improve new patient performance for our clients. Check out the homepage example below to see where people are actually clicking when they land on a site. Using "heatmap" technology, we have the ability to monitor how users interact with a website and which areas receive the most clicks.
As shown above, a welcoming homepage should feature these four key elements to help drive and guide the user experience:
Clickable menu items and banners
Personal photos
Call to action buttons
Contact information
Testimonials
Incorporating testimonials into your homepage design is not a thing of the past. The good news going into 2016, though, is that not everything needs to be 'above the fold' any longer. You've got plenty of room to build without overcrowding. Take a look at the image at the right taken from the bottom half of a homepage. You can see that website visitors scrolled and clicked all the way to the bottom of the page. The testimonials slider saw the most action, indicating website visitors not only scrolled down far enough to read the rave reviews, but also clicked to learn more about what others thought.
Not all testimonials featured on your dental website need to be written—consider video testimonials to give visitors an in depth look into a patient experience. When going this route, make sure your patient has signed a video consent form. Don't have patient reviews to feature? Add linked social media and review site banners (pictured above) to your website. This encourages patients who've already visited your practice to leave reviews, which you can ultimately transcribe for use on your website.

Search Engine Optimization
Of the three components on our list, search engine optimization is often the most easily misunderstood due to its ever-changing nature. In fact, it's nearly impossible to get SEO experts to wholly agree on what the best practices are—not because they enjoy being difficult, but because there isn't just one set way to accomplish a successful SEO campaign. In fact, white-hat SEO is often the sum of many strategies that can affect each and every website differently.
In 2015, MOZ's annual local search results survey found that SEO experts placed the most weight in the following eight categories:
Google My Business Signals: This past year, Google shook things up by announcing a new 'snack pack' listing, which displays just three map listings on a search result page. Learn more about that here.
External Local Signals: Making sure your practice's name, address, and phone number are cohesive across the Internet plays a critical role in results.
On-page Signals: Experts believe that on-page optimization should include title tags, meta descriptions, and a keyword focus for each page of content to help Google deliver the most appropriate results to searchers.
Link Signals: It's widely accepted that high quality links pointing to your website can boost rankings. However, low quality links purchased through black hat SEO tactics can do more harm than good.
Review Signals: The importance of positive online reviews for your dental practice continues to grow, though a 'quality over quantity' approach should be taken.
Social Signals: A dental practice should have a regularly updated Twitter and Facebook business page.
Behavioral and Mobile Signals: Mobile websites are now a must. Without a responsive site, your rankings could suffer in Google search results.
Personalization: Experts believe that Google uses personalization for search results, meaning person A may see different results than person B based on the way they've previously interacted with returns.
While we agree that the above eight categories each contain their own respective SEO magic, we are confident that 2016 will be the year that buries black hat SEO once and for all. Black hat SEO involves the use of aggressive tactics that don't have the user experience in mind and break guidelines set forth by the search engines.
If you're a Smile Marketing client, rest easy knowing that we don't practice black hat techniques of any kind. Unsure about whether or not your SEO team may be implementing these negative approaches? Strike up a conversation by getting clarification on the following questions.
(If the answer is "yes" to any, run!)
Does my site contain any duplicate content?
Have backlinks been purchased for my website?
Are there small, hidden links or illegible text on my website?
Are cloaking techniques tricking search engines?

Social Media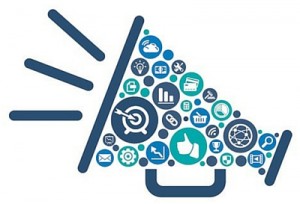 Unless you've been living under a rock, you're aware that nearly two billion people worldwide communicate via social media each day. From its sheer volume of users alone, you might guess that it's become a must for all dentists.
And you'd be right.
However, one of the biggest misconceptions involving social media for dentists is what can be expected from the efforts put into it.
Want to connect with your current patients? Great.
Looking to share special offers on a new platform? Super.
Hoping to get new patients? That could be a problem.
Social media sites like Facebook and Twitter are excellent ways to communicate with patients who know you, trust you, and recommend your services to their friends and family members. This is why using social sites to interact and stay in the minds of current patients can have a direct and positive effect on referrals.
Why shouldn't you expect a ton of new patients directly from social media? Because patients aren't turning to Facebook or Twitter to find you. If someone in your area is actively seeking a new dentist online, they're far more likely to use a search engine like Google to return results. Then, they're going to stumble across website URL's instead of social media profiles. If you're practicing white-hat SEO techniques, which include social signals, they'll hopefully discover your website and feel compelled enough by your content to pick up the phone.
Now that you have a better understanding of what can be expected from your social output, re-establish your goals by aiming to provide great content to those who follow you and special incentives to encourage patient referrals.

How to Improve Your Social Media Presence in 2016
Social media is here to stay. To make sure your dental practice is ready to take on the New Year from a social standpoint, implement the following:
Have social profiles? Make sure their icons or banners are linked on your website. These are often placed in the header, footer, or sidebar of a dental website.
Make a New Years posting resolution! Aim to post on Facebook and Twitter once each day. If you find yourself too busy for the task, reach out to your office staff—chances are they'll be both willing and able to take on the task.
Participate in hashtag use when it makes sense. This can help increase your reach on both Twitter and Facebook. Craft posts that are appropriate for popular hashtags like #WellnessWednesday and #FunFactFriday.
Use Facebook as social media, not your website. Put an end to long status updates that would be better suited as blog posts.
Get visual. Because social sites are image driven, take advantage of free tools like Canva.com to create great looking content that will grab the attention of your fans and followers.