You may be noticing us talk a lot about Google Ads lately. Why? It's not to "upsell" you. When you're running Google Ads, most of the money you spend goes straight to Google for your ad budget.
The reason we are talking a lot about this is because Google search results are constantly evolving. The ad placements and prominence on the search results page have changed drastically over the years.
Nowadays, the ad space takes up most of the page that appears above-the-fold. Have a look at what comes up when searching for "dentist Brisbane":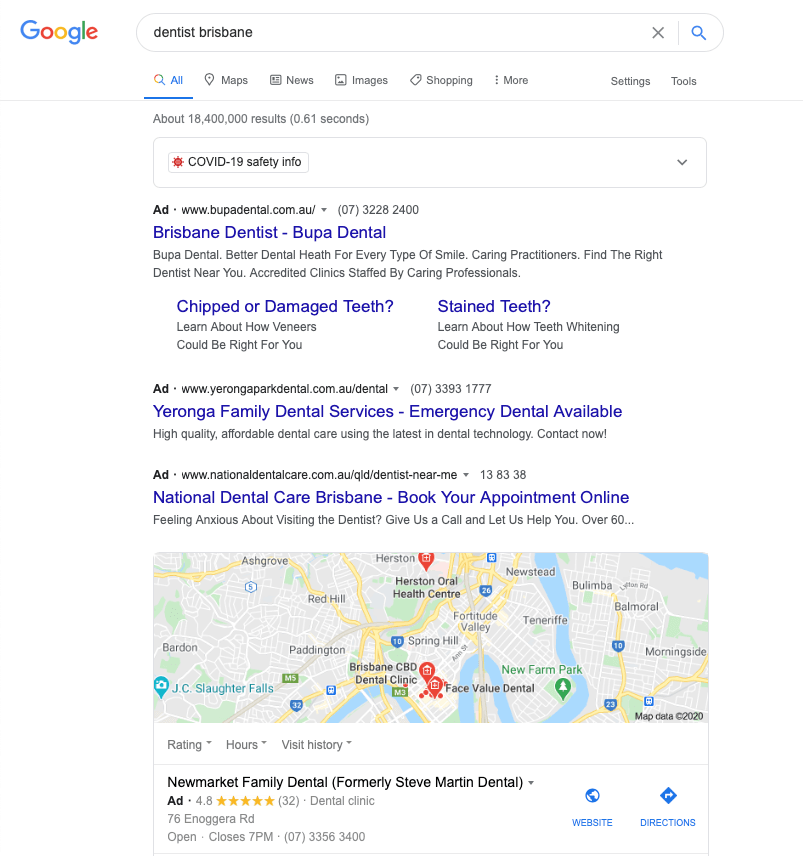 The top three listings are all ads, as well as the first maps listing. Without scrolling down on your browser, you can hardly see any organic search results.
The ad placement hasn't really changed over time, they've always been placed at the top of the search results. However, the way the ads look has changed significantly!
Take a look at the below graphic from Search Engine Land. It shows how the appearance of Google Ads has evolved over the years.
As you can see above, the ads used to be highlighted in a noticeable colour to help them stand out. Now, the only real difference between an ad and an organic listing is they have the word "Ad" in bold black text. It's pretty easy to miss for someone quickly browsing and only looking for relevant keywords for their search. They look almost identical to organic listings.

Question is, Do People Still Click on Ads?
The answer is yes. We might not click on ads because we work in dental marketing and know they're ads. But imagine someone searching for a very specific service and seeing a bunch of listings like the one above. We know from experience the user will click on the headline that is most tailored to what they're searching for.
The ad listing also has more information than an organic listing. You can customise the text that displays to include relevant details such as your contact number, hours, location, etc. All available to the user at-a-glance.
Now, what happens when someone actually clicks on the ad? Well, with us, we'll take you to a tailored landing page that is carefully designed for the ad campaign. Imagine in the eyes of a prospective patient, they're searching for something very specific. They click on an ad and go to a landing page that's tailored exactly to their search. They're likely to convert due to their great user experience!
This exact scenario plays out all the time. So, when done well, Google Ads can be a really profitable way to get your dental practice in front of more prospective patients online.

5 Reasons You May Wish to Consider Google Ads
There's a number of reasons why a dentist may want to start using Google Ads. It might be that you:
Are a brand new clinic in a competitive area
Have a new website and domain and want to get new patients quickly without having to wait for organic SEO (SEO is still an important long-term strategy)
Have a special offer you want to advertise
Want to promote a specialty service such as dental implants and get more new patients attracted to that service
Want to target a broader radius around your practice

Incorporating Google Ads into Your Overall Marketing Strategy
Google Ads are most effective when all the pieces to your marketing strategy are optimised and in top shape. For example, your website must be well put together, user-friendly, and built with patient conversion front-of-mind. Your SEO strategy should be in place so that organic rankings have a chance to compete in Google search results.
Here's an example of how to incorporate Google Ads into your marketing strategy.
Step 1: A Website Designed to Convert New Patients
The first step to creating an effective marketing strategy is to get your practice website in the best possible shape. You should have a beautiful website design that takes users on a journey, landing on all the high-converting pages we want them to land on before contacting you. Along with your website design, a solid SEO strategy works hand-in-hand. Over time, this will make your website visible in organic search results.
Step 2: Start Google Ads to Send Traffic to Your Site Quickly
Once your website and SEO strategy is live, you can start Google Ads to increase traffic to your site quickly. Depending on your area, patients searching for a dentist in a surrounding suburb can be targeted with a tailored ad campaign, a high-converting landing page and compelling copy. You should consider a special offer to use with your Google Ads campaign. Something like a new patient special package, or free consultations for cosmetic services.
Step 3: Activate a Retargeting Campaign with Facebook Ads
For those patients who don't convert right away, you can nurture them through a cost-effective Facebook Ads retargeting campaign. It's easy to start and super affordable, your campaign can start from as little as $5 a day. You can add a Facebook pixel to your site that will capture the visitor's information and match them with their Facebook profile. Days later they could be seeing your ad pop up on their Facebook feed. Not a bad way to remind them of your new patient special, right?

What's the Cost of Google Ads?
The exact cost-per-click that you'll pay is variable depending on your location, which keywords you're targeting, and your competition. The most important thing to know before implementing Google Ads is what a new patient is worth to you. What is a new patient's lifetime value? Once you know that, you can use our Google Ads ROI Calculator to get an idea of how much you'd be willing to spend on ads to get new patients.