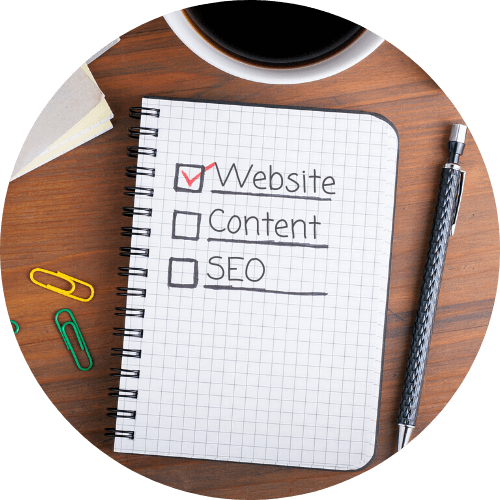 Under normal circumstances, it can be hard to find the time to deep dive into your marketing strategy. Are you hoping to make the most of this unexpected downtime by tidying up your online presence but feeling overwhelmed? We've got your back. Use this simple guide to update your website and ensure your practice is positioned for success when the COVID-19 dust settles.
Your website is the heart of your digital marketing strategy. It's important that it represents your brand in a way you can be proud of, and that it connects with new patients. Then, there are all the activities needed to make your website findable.
In this article, you'll learn how to ensure your website is on-brand, up-to-date, easy to find, and ready to convert more new patients. Let's get started.
Let's get started.

Website: Declutter Your Practice Website
Has your staff changed since your last website review? Check your team page, remove team members who are no longer with your practice, and update with current headshots and staff bios.
If you have an events page, ensure past events are removed. If you have no upcoming events, consider removing this page altogether. Or, use it as a "Virtual Events" page to announce webinars or live streaming videos.
Remove old, outdated content. If it's not relevant to new or current patients now, it's not necessary to include it on your website.
Organize your navigation. Are the most important pages prominent on your menu? Meet the Dentists, About Us, New Patients, Services, & Contact Us should all be easily accessible.

Content Review: Does Your Content Connect?
Read your homepage from the perspective of a new patient. Are your mission and values clearly expressed? Now, visit your "Meet the Dentist" page. Does this page show potential new patients who you are and explain why you are the right dentist for them?
Update your testimonials, if applicable in your area. Has a patient given you a compliment lately? Let's highlight it.
New Patients: Is there anything you'd like to tell your patients about what to expect at their visit. Are your most frequently asked questions answered?
COVID-19 Information: Have things changed in your practice since COVID-19? Do you have new protocols in place that you'd like prospective new patients to know about? Are you offering virtual consultations? Ensure this information is easily accessible.

SEO Check: Are You Targeting the Right Keywords?
The first step is to determine what your website should be ranking for. For example, if you're a dentist in Fremantle, WA, "dentist Fremantle" is likely the best target keyword for your site.
Check your title tag (you can see this by hovering your mouse over your browser tab). This is your website title, it tells search engines and users what your website is about. You'll have a limit of about 55 characters here, so it should be short and include your target keyword.

Is the location in your title tag the most likely location a visitor looking for a dentist in your area would search for? If you are in a large city, it may be best to use a neighborhood name. In other areas, it makes more sense to target by city. It all depends on how people search in your area. Ask yourself what you would search for if you were looking for a dentist in your town.
Is your homepage text SEO friendly? We recommend at least 300 words of unique text that are directly related to your target keywords.
Subscribers: Harness the Power of Email Marketing
Have you been adding subscribers to your website dashboard? If not, now is the time to update your list and communicate with your patients, and get reactivation emails ready to send out.
Consider creating a Facebook competition and emailing your list about it. This will help to reengage your patients and encourage both new and repeat visitors to browse and share your updated website.
If you're a premium Smile Marketing client, talk to your Digital Marketing Specialist about crafting an email marketing strategy for your practice. A well-crafted email marketing strategy will improve retention, reactivations, and referrals.
Rinse, Repeat & Reevaluate
Taking time to review your marketing every six months will keep your online presence fresh. So, what are you waiting for? Download this printable checklist and get started today!

BONUS TIP #1:
Review Your Google My Business Listing
A free Google My Business listing is an essential component of your practice's online presence. A well-optimized listing displays useful information to visitors, allows potential patients to contact you and provides a popular hub for reviews.
The basics: Are your address, phone number, and business hours up-to-date? Do they match the information posted on your website?
Messaging: Turn on Messaging to allow potential patients to chat with your practice instantly via text.
Reviews: Ask patients to review you and make sure you respond to both positive and negative reviews. Pro tip: a thoughtful response to a less-than-perfect review can actually be a great opportunity to show others your excellent communication and customer service skills.
Photos: Show people who you are by uploading current photos of your practice & team.
Posts: Run promotional offers or highlight blog posts through Google Posts.
BONUS TIP #2:
Spruce Up Your Social Media
Your community is spending more time on social media than ever before. Show up where they are and engage to position yourself as a leader in the community.
Claim your name: Claim your practice name on all platforms, whether you're going to use it or not. This protects your brand and helps to avoid confusion with similarly named practices.
Choose one platform: It's easier to build a solid presence on one social media platform than to spread yourself thin by trying to be everywhere.
Get engaged: Social media is about building community, not selling. Use social media to show your authentic voice and build your audience.
Plan your content: Overwhelmed at the thought of posting to Facebook or Twitter every day? Take some time to create a content calendar that you can work from. The Smile Marketing Premium plan includes weekly social media posts that are relevant and engaging.
Automate: Save time with automation tools like Buffer or Hootsuite. Use these to schedule your weekly or monthly posts in one session. Smile Marketing premium clients can also connect their blog to Facebook and Twitter so new posts are broadcast automatically.