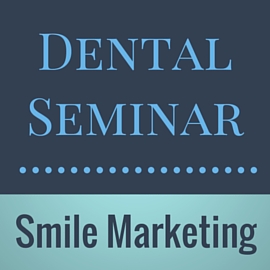 Disappointed with the number of new patients your website is producing?
Building a patient-generating website isn't just about getting as many site visitors as possible. Nor is it about ranking at the top of Google for every possible keyword. While rankings and site visitors are important, your goal is to bring in qualified traffic that is likely to convert into new patient appointments.
In addition, you want the systems in place to gain a steady stream of new patients over the long-term. Smile Marketing will be hosting a dental seminar in Australia that offers the tools to help you do just that.

New Patient Seminar for Dentists
New Patient Marketing Expert Stephen Anson will present actionable steps to improve your visibility in the digital space. This isn't a sales presentation. It is an information-packed seminar that provides ready-to-implement ideas to market your practice on the Internet. You can also earn 1.5 CPD hours.
During the 90-minute seminar, you'll learn how to:
Boost your rankings in Google
Manage your online reputation
Implement email marketing campaigns
Improve retention and referrals through Facebook
Expedite new patient growth with Google AdWords

Seminar Dates & Locations:
Registration at 6:45pm for a 7:00pm start.
Perth: Mon, 23 May – Duxton Hotel
Melbourne: Tue, 24 May – Melbourne Rialto
Sydney: Wed, 25 May – Sydney Hilton
Brisbane: Thu, 26 May – Brisbane Hilton
($95 registration fee for the dentist; $145 for the entire practice.)