The 14 creative dental marketing ideas listed below will help you quickly amp up your practice marketing so you can start attracting a steady flow of new patients.

#1: Update your brand
The first step is to evaluate your overall brand. As advertising expert John Williams explains on Entrepreneur.com, "Your brand is your promise to your customer. It tells them what they can expect from your products and services, and it differentiates your offering from your competitors'."
Start by taking a look at your practice logo. Does it accurately reflect your office's personality? Does it convey what you do and what makes your practice special? If not, it's time for an update.
Then, carry the new logo and its overall feeling through all of your marketing materials and your office. Consistency in branding makes your practice recognizable and builds trust in the minds of current and prospective patients.
#2: Update your website
Your website is the hub of all of your dental office marketing efforts. It needs to reflect your brand, be up-to-date and designed to convert new patients. Here are a few specific things to look for on your site:
Is it designed to appeal to your ideal patient? (i.e. families, seniors, emergency cases, etc.)
Do you differentiate your practice? In other words, is it clear why a new patient should choose you over your competitor?
Has your website design been updated recently? A website's shelf life is only 3-5 years. An outdated design sends the message of an outdated practice.
Is it responsive, designed for mobile compatibility?
Does your website contain professionally written content designed to persuade visitors to choose you?
Does your website showcase professional photos of you, your team, and your office? Actual photos of the business owner, office and employees establish trust in prospective new customers.
Do you have calls-to-action encouraging website visitors to schedule an appointment?
If you see one or two areas in which your site could be improved, make the updates today! If your dental website needs a major overhaul, talk to your current website provider about an update, or reach out to a website provider who specializes in dentistry and offers an integrated online marketing solution.
#3: Manage your reviews
Do a Google search of your name and then your practice name. Note the review sites that come up in the search results and take a look at your reviews. Don't have any? Setup your profile on popular review sites like Yelp and HealthGrades to start getting patient reviews.
If you already have reviews, make sure you've claimed your profiles and filled them out with complete, accurate information. Then read your reviews. Thank those who have left positive feedback and reach out to patients who have left negative feedback. Before responding to reviews, though, read our blog post "How to Respond to Negative Dental Patient Reviews."
"88% of consumers say they trust online reviews as much as personal recommendations." -2014 BrightLocal study

#4: Setup social media pages
A great dental marketing idea for generating new patients is to be active on social media. If you haven't yet, set up a Facebook business page. Fill it out accurately with your practice information, add a high quality profile photo and cover photo, and you're ready to start engaging with your patients.
You can also set up a Twitter profile or any other social media profile that you think makes sense for your practice. Then make sure that you link to your social profiles from your practice website. When you post updates, link to blogs and articles on your website, and engage with your followers, you receive positive social signals that could improve your website's overall rankings.
Plus, engaging with your current patients on social media keeps your practice top-of-mind, boosting retention and referrals.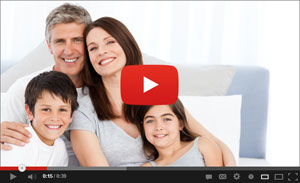 #5: Film patient testimonials
Adding patient testimonial videos to your practice website (if allowed in your jurisdiction) is one more way to show "social proof." And with so many people trusting online reviews, it's a great way to add reviews to your own website.
Filming patient testimonial videos may sound like a daunting or expensive task, but it really isn't.
For a comprehensive look at how to film testimonial videos yourself using your smartphone, take a look at our infographic. Be sure to have anyone who appears in a video sign a consent form.

#6: Start blogging
Google loves websites with informative, unique, high quality content. They want to see that your website effectively answers visitors' questions (measured by their level of engagement with the site) and that you provide your visitors with new content regularly.
Blogging is the best way to consistently publish new content to your website. Not only can it improve your search engine rankings, it shows your patients that you are an authority in your field and care about providing them with useful information. It also offers you another way to distinguish yourself from your competition.

#7: Participate in your community
Engaging with your community is always a good idea. Not only does it get your practice name in front people in your area, it shows that you care about your community.
Sponsor a local T-ball team, host a charity event, have your office participate in the local 5k. This offline marketing gives you the opportunity to interact with potential new patients face-to-face.
But don't forget to add an Events or Community page to your website where you share the local events you and your team will be participating in and encourage patients to join you. By doing so, you show website visitors that you are involved and invested in your community.

#8: Regularly email existing patients
While trying to get new patients, don't neglect your existing patients. Remember – your current patients are the ones who will refer you to their friends and family. Nurture those relationships. Email marketing is a great way to keep in touch with existing patients and keep your practice top-of-mind, plus promote other services you offer.
The first step is making sure you ask for each new patient's email address at his or her first visit to build your patient email database. Ideally, your dental website integrates with your patient email list. If not, you can use a third-party email service or look for a dental website provider that offers a more comprehensive marketing option.
What types of emails should you send your patients? A monthly newsletter providing oral health tips is a great start! At Smile Marketing, we send a monthly patient newsletter to your patients on your behalf. You get to preview and edit each article before it's sent, but we do the heavy lifting.
We can also send birthday greetings, a great way to show your patients you care about them. These emails often remind patients that they're due for a checkup, improving retention, which in turn leads to more referrals.
#9: Try PPC advertising
If you're anxious for a quick influx of new patients, you may want to consider pay-per-click (PPC) advertising. Online advertising platforms like Google AdWords allow you to target potential patients searching for a dentist in your area. You choose the search terms for which you want your ads to appear, create the ad, and link it to a landing page on your website. And, as the name suggests, you only pay when someone clicks on your ad.
PPC can be an effective way to get your practice in front of an appropriate audience right away, especially if your website isn't ranking well in the search engines. You can turn your campaigns on and off depending on your new patient needs.
Google Ads for dentists should be managed by a professional to ensure you get the most for your money.

#10: Go Hollywood with videos
There many reasons to add video to your marketing arsenal. The most obvious reason? People are obsessed with watching videos online. In fact, 45 percent of people watch over an hour of YouTube and Facebook videos every week.
Now here's the key. Don't produce any old video. Like all your marketing activities, you must develop content that highlights your practice personality. This could include Facebook Live-ing an event. You could interview a staff member. You could even go "behind-the-scenes" and provide an inside look of what it's like to visit your practice.
#11: Make your site voice search-compatible
Voice search is rising in popularity – and rising rapidly. In addition to phone assistants like Siri and Google's smart assistant, more and more households are adding smart speakers to their home. Devices like the Amazon Echo and Google Home are giving people greater abilities to gain information via their own voice.
What does this mean for you? It means making your website findable by digital assistants. This can be achieved by tweaking your SEO strategy to cater to voice searches. Rather than gearing your keywords solely toward keyboards and touchscreens (i.e. dentist raleigh, north carolina), you incorporate long tail phrases that someone may say audibly (i.e. Find a dentist in Raleigh, North Carolina.)"
#12: Build your authority
In 2020, it's important to improve your expertise, authoritativeness, and trustworthiness, also known as E.A.T. It's no longer enough to just build a website and do a little SEO. That is, if you want to dominate Google's search results. Improving your E.A.T. score helps Google connect the dots between you as a person and your online presence.
Look at it this way… Google wants to make the Internet as "human" as possible – because it's being used by, indeed, humans. To improve your E.A.T., you can do some guest blogging, post more on social media, and get more engaged with your community. The more places you're seen online, the more opportunities you have to improve your authority.
#13: Stimulate more referrals
Referral patients are the best new patients. Of course, when it comes to referral marketing you have limitations (considering you can't refer yourself). However, there are tactics you can use to encourage patients to refer you.
First step, just ask! Leave a piece of marketing collateral at your front desk that might encourage patients to tell their friends about you. Also, new patient surveys are a great way to get internal feedback about your practice, while also stimulating referrals. Check out Smile Marketing's New Patient Survey technology to see how it works.
#14: Take a look inside your practice
When marketing your practice, you need to look at the "big picture." That means not only evaluating the marketing happening outside your office, but looking at what happens inside as well.
Is your staff able to convert the potential patients that call in? Are they friendly? Knowledgeable about your services? Do they answer calls in a timely manner or are too many placed on hold?
You can do all the marketing in the world, but it won't matter if new patients are lost during the first phone call. Here are a few suggestions for talking to potential new patients over the phone.
Also make sure you have a designated website advocate within the practice. Someone who ensures the website always reflect the current goings on in the practice and who responds to all email inquiries in "Internet time" – promptly, within 24 hours or less. We've all filled out an online form or submitted an email inquiry, but never heard back from the business. That's a surefire way to lose a prospect.
These 14 dental marketing ideas will get your practice on the path to new patient growth. Looking for more ideas? Check out 10 Dental Marketing Strategies or download our most popular eBook below!