The digital marketing world moves quickly. Trends and algorithms change. Consumer behavior changes. It can be tough to keep up. That's why we've updated this article to include the top 10 dental marketing tips you need to know to make 2023 a year of growth for your practice.
1. Improve Your Website's Conversion
Website designs have a shelf life of only a few years. Trends and user behavior change quickly. Has your website passed its expiration date?
There are many dental marketing services that offer beautiful dental website designs. But your website is about so much more than beauty. When you focus solely on aesthetics, you are likely to overlook the key features that make a website high-converting.
For example, users don't want to weed through long blocks of text. Websites need to load quickly and be easy to navigate. Attention spans have become so short that if someone can't find exactly what they're looking for the moment they land on your website, then you've lost them. And you probably lost them to a competitor.
It's all about optimising for new patient conversion. Taking a potential new patient down a digital journey that leads them to a positive real-world experience (i.e. a dental checkup). It's a great time to consider updating your website to improve user experience and attract more new patients in 2023.
Julie Watts, Creative Director at Smile Marketing says,
"Authenticity is key in your website design. Authentic photography helps translate personality and the vibe of your practice. Also, write persuasive written content that tells who you are. No more salesy 'fluff' content. You make your web presence authentic and you have a serious leg up on the competition."
2. It's All About E.A.T.
The #1 tip we can offer going into 2023 is to focus on your E.A.T. E.A.T. stands for Expertise, Authoritativeness, and Trustworthiness. It's an important concept that connects the dots between you (as a person) to your online presence.
Google wants to ensure it's recommending trustworthy content in the search results. Now more than ever, Google is scrutinizing website content in the health and wellness industry.
What's the remedy? Build your authority and make yourself trustworthy. SEO Specialist, Jannell Howell, explains, "Google is rewarding websites that demonstrate E.A.T. well. Meanwhile, business owners who are inactive with their web presence will have a hard time keeping up, even with an amazing website."
To improve your E.A.T. score, you should consider guest posting relevant, expert articles on other websites, become more active on social media, and get engaged with your local community. The more places your name is found online on trustworthy websites, the better authority you will have.
3. Break Through the Social Media Noise
While there are countless benefits of social media (building community, improving retention, etc.) there are also some noteworthy challenges. Competition is as fierce as ever and there is a growing level of "marketing fatigue" setting in among users. So, how do you break through the noise to make social media effective in 2023?
Get personal. Facebook pages that get the most engagement are those where doctors and staff members share what's going on in the office. What's important to them. What they're doing in their community. What patients are saying about them.
Interactive content is another way to break through the noise. Run a poll on your Facebook page, ask a question (i.e. "What's the number-one thing that makes you smile?")… Whatever you can do to keep your followers engaged and wanting more.
No time to create engaging social media posts? Consider our Social Media Content Service. From only $49, you can have your socials covered and have us do the hard work for you.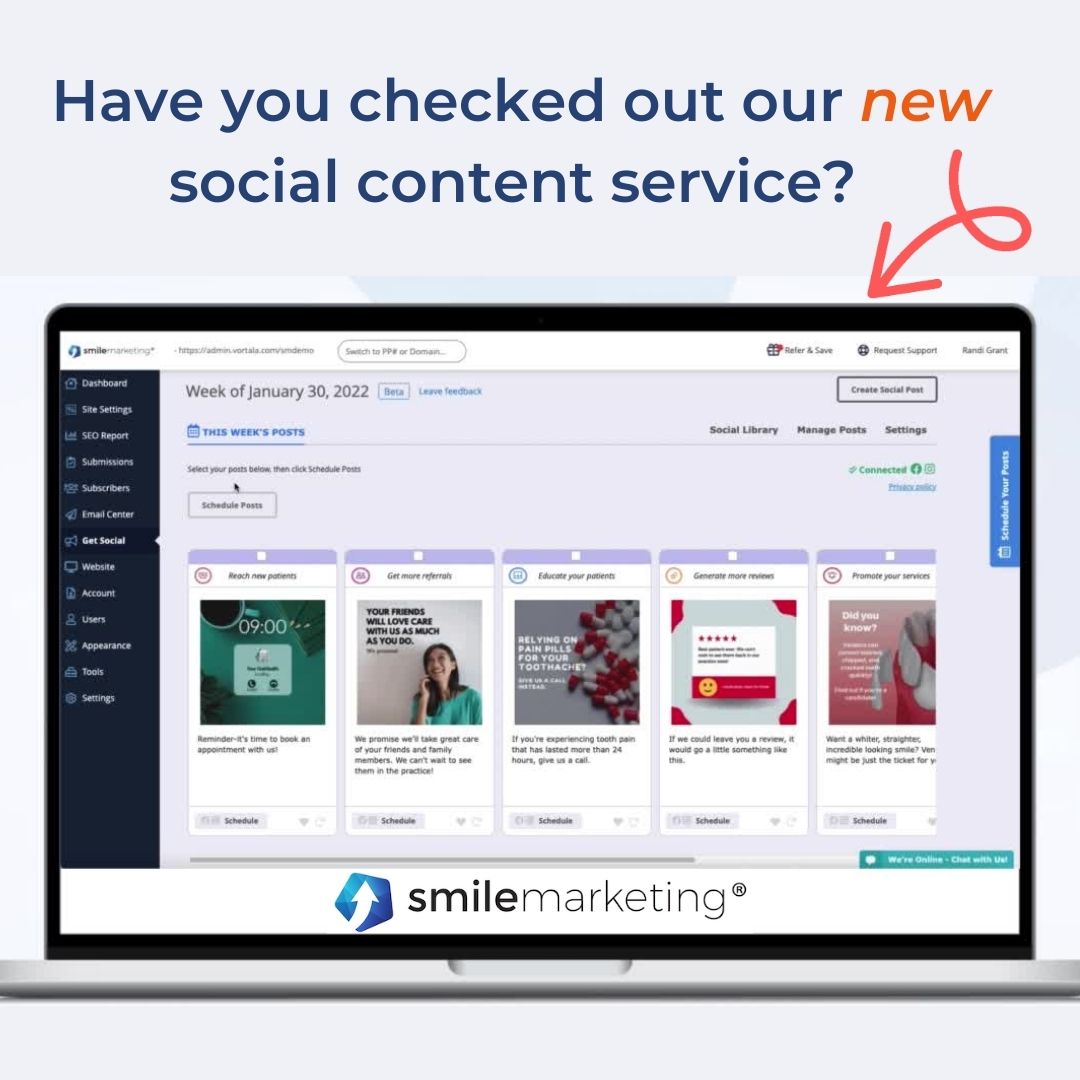 4. Use Video to Engage Your Patients
Consider this: 45 percent of people watch more than an hour of Facebook or YouTube videos per week. In other words, video is an excellent tool to incorporate into your digital marketing efforts. You can share videos on your website, post them on social media, and distribute them through other digital mediums.
Now, any old video won't do. Like your social media presence, your videos must be personal and engaging. Don't shoot a video that simply rattles off your services. That's boring. Create content that showcases your practice personality (are you noticing a trend?).
You could Facebook Live an event. Interview a staff member. Go "behind-the-scenes" by shooting a tour of your office. These types of videos make your current patients feel included and gives prospective patients a preview of what it's like to be one of your patients.
For a quick peek behind the curtain… We practice this at Smile Marketing. Sending an email with a personal video from a staff member reveals an important point: We are real people. We have aspirations. We care about what we do.
Remember, people crave authenticity online. Businesses that do this well will always come out on top.
5. Consider Digital Assistants
The popularity of voice search will rise exponentially in 2023. In fact, by 2023 it is projected that over 50 percent of households will have a smart speaker device. That's in addition to the overwhelming majority of people who currently have a digital assistant on their phone (i.e. Siri and Google's smart assistant).
As far as people using digital assistants for voice search, our Google Ads team is finding more and more search terms that start with "Okay Google" – which is the code phrase that activates an Android device's digital assistant. Moreover, we have first-hand knowledge from Google that the search engine is beta-testing a feature that will help determine which portions of a website are optimized for voice search.
What does this mean? You have to tweak your SEO strategy to cater to voice searches, not just keyboards and touchscreens.
Example: Rather than focusing solely on keywords like, "Dentists Melbourne," also incorporate long-tail keywords like, "Find a dentist in Melbourne CBD."
6. Invest in Paid Search Campaigns
The most valuable real estate in the Google search results is filled with ads.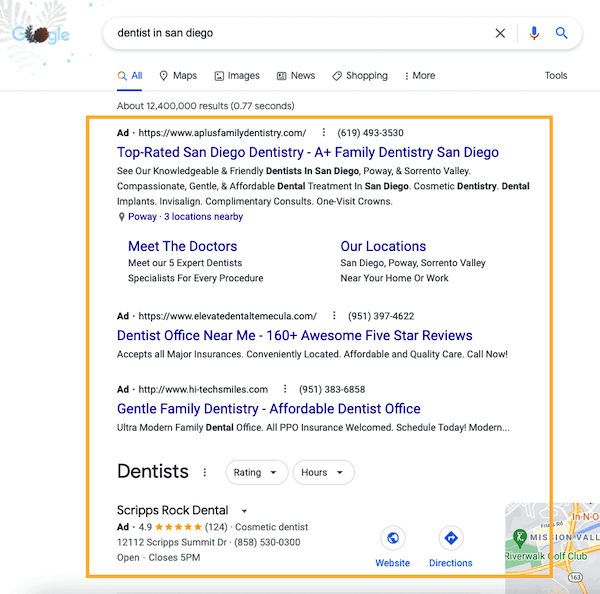 While it's still important to invest in organic SEO for long-term search result visibility, ranking #1 means users have to scroll past several ads to see you. If you've noticed a dip in your website traffic or new patient numbers, this could be why.
49 percent of people said they click on text ads; 31 percent on Shopping ads; and 16 percent on video ads.
Pay-per-click advertising (PPC), like Google Ads, gives you the opportunity to target local residents who are specifically searching Google to find a new dentist. You can select the search terms you want to target, create custom ads, and link your ads to a special landing page on your site. You are charged a cost-per-click whenever someone clicks on your ad.
It's a great way to increase traffic to your website, gain more visibility in a highly-competitive jurisdiction, or promote a New Patient Special. Just be sure to have a professional manage your PPC campaigns to make sure your money is being spent wisely.
7. Get More 5-Star Online Reviews
The importance of positive online reviews isn't new. But reviews will become increasingly critical in 2023, as more and more people rely on them to make business decisions (or in your case, a medical decision).
Research shows that 91 percent of people read online reviews, and 84 percent trust online reviews as much as they'd trust a personal recommendation. In other words, your real-world reputation is now taking a backseat to your digital reputation.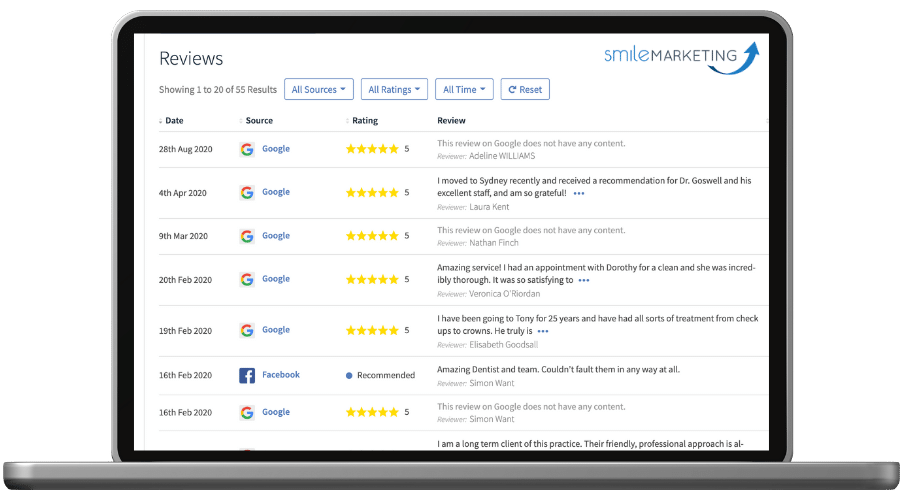 Additionally, Google weighs Maps search results based on review ratings – making it a key advantage (or disadvantage) for your SEO. For example, if you have an average 3.2 star rating on Google, and a competitor has a 4.7 rating, they'll have a better chance of ranking above you.
But how do you get a consistent stream of new reviews? Smile Marketing has your back with Get Reviews, our online review automation platform. This all-in-one dashboard allows your staff to automatically request patient reviews via email or two-way texting. Get Reviews alerts you instantly whenever a new review is posted and you can respond to all your reviews right from your Smile Marketing dashboard. You can also easily share your favorite 5-star reviews to social media and add them to your website. Now you can spend less time asking for reviews and more time celebrating your best ones! Get Reviews is included in our Ultimate plan and available as an add-on to all others.
8. Ramp Up Your Content Marketing
Is content still king in 2023? Absolutely. Website content helps demonstrate your knowledge and expertise to potential new patients. It's what Google puts in its search results. It fuels the fire that is your SEO. So if you want to improve your rankings, never stop creating content.
Of course, there's a catch. Rushed, irrelevant content won't cut it. Today it's all about quality. People want useful, relevant information served to them when they search on Google. What is Google's mission? Give the people what they want.
If a searcher shows up on your website only to bounce off ten seconds later, you likely have a quality problem – which, in turn, creates a Google problem (indeed, the Google gods are always watching).
In essence, don't just create content for the sake of creating content. Put on your thinking cap and put yourself into the mind of a prospective patient. Ask yourself, "What is my ideal target patient looking for?"
You could provide tips on how to handle dental anxiety. Or you could answer a question like, "How do I know if I have periodontal disease?" The key is to identify what they're looking for and then give it to them.
Don't have a ton of time to work on new content? The Smile Marketing premium service includes a dedicated digital marketing specialist who works with you to come up with targeted, high quality blog posts and email blasts to engage your future new patients.
9. Send Email Campaigns
Email automation allows you to send time- or action-triggered campaigns to your patient list. For example, you could automate a monthly newsletter. Or you could automate a new patient survey that is sent following a patient's first appointment.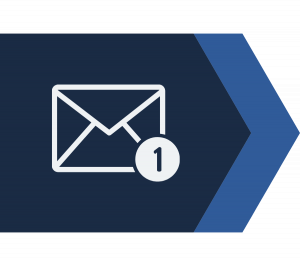 During the pandemic, we have supplied numerous email campaigns to our clients to ensure they are communicating with patients during an uncertain time. This has been imperative to continuing business and staying strong the last two years.
While you do have to be more creative with email (due to inbox competition and message fatigue), it's still one of the most fruitful dental clinic marketing channels. Not to mention, it offers one of the greatest returns on investment.
STATISTIC: For every $1 spent, email marketing generates $38 in ROI.
Now, going through your patient roster and sending out individual emails isn't practical. That's why email automation should be in your marketing arsenal for 2023. With the right software, you can automate new patient surveys, birthday emails, holiday emails, along with targeted promotional campaigns to help fill your patient schedule. The best part is if you're a client of ours, we do all this for you.
10. Consolidate Your Marketing
There are countless digital marketing vendors and software technology companies to choose from. You could have an SEO consultant, a freelance writer, a website designer, a PPC provider, all working separately on your digital marketing. Over the years, this has posed serious challenges for businesses.
First, there's the hurdle of managing multiple vendors. Second, each vendor has their own agenda, making it difficult to find the weak link when things go awry. When your new patient numbers take a tumble, there can be a whole lot of finger-pointing.
The reality is, if your digital marketing efforts lack synergy, the system fails. This leaves you with a host of questions: Do the content writers know my audience? Did the SEO consultant properly optimise my site for Google? Is my PPC agency blowing through my budget with little result?
It's stressful and inefficient. It's why more and more businesses are moving to an all-in-one marketing solution. One point of contact to manage your entire online presence. It's what is required to dominate in 2023.
Book Your Meeting With Us
If you're looking to consolidate your dental marketing in 2023, book a Discovery Call today. Our Digital Marketing Consultants will evaluate your current online presence, discuss your new patient goals, and see if Smile Marketing is the right fit for your practice.