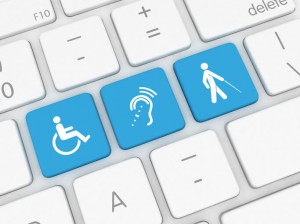 New guidelines from the Americans with Disabilities Act (ADA) are looming, potentially as soon as this Spring.
The compliance measures are being set in place to ensure that websites are accessible to all, including individuals with disabilities.
While there are currently no ADA guidelines specific to digital marketing, it's an issue that the Smile Marketing has been anticipating.

What This Means For Digital Presence
While such guidelines are specific to the U.S. market, we anticipate a similar push in clients outside of the U.S. (Australia, Canada, UK, and elsewhere).
Despite a lack of clarity in the regulations, the Department of Justice has an extensive list of suggestions through its Web Content Accessibility Guidelines (WCAG) 2.0, Levels A and AA.
These are not legal guidelines. However, following them ensures that your website is accessible to people with disabilities.
Your Smile Marketing Website
If you are already a Smile Marketing client, rest assured the most critical ADA compliance changes are being implemented on your website.
And while the upcoming ADA regulations only apply to practices located in the United States, we are updating client sites globally.
We are doing so for two reasons:
Having your practice website accessible to all is advantageous, and more importantly, it's the right thing to do.
There's a likely chance that governments outside of the U.S. will follow suit and enact similar compliance in the coming year(s).
Updates to Expect
There are a couple updates we are currently implementing.
First, in the coming weeks you will see an "Accessibility Widget" that provides users with options depending on the assistance they need.
Additionally, you will see an "Accessibility" link in your website's footer that links to a Web Accessibility Statement. This will explain to users the efforts being made to make your site accessible to people of all abilities.
As technology evolves and as new guidelines surface, we remain committed to keeping your website current and accessible to everyone.
We will be sure to release updates accordingly.
Please contact us if you have any questions or concerns.