PPC is a very common acronym in the Internet marketing world that stands for "pay-per-click." It is a type of online advertising for which you pay each time a person clicks on your ad. It is not part of your dental website SEO, rather a way to pay for an ad listing in the search results for certain keywords.
You see PPC ads every time you Google something. They're the first 3 listings that appear in your search results, as well as in the sidebar, with a small yellow box that says "Ad":

The Basics of PPC for Dental Practices
PPC advertising is available on many platforms, but the most popular is Google AdWords. When you set up a campaign on AdWords, you have two options—search network or display network.
The search network is what appears in search results like the example above. The display network allows you to run text and image ads that display on other websites. For example, the image ad below appeared toward the bottom of the New York Times homepage and is a display network PPC ad:
For dentists looking to get new patients from PPC, the search network is your best option as it allows you to target a much more specific audience than the display network does. And when you're spending money on every click, you want to make sure that the audience doing the clicking is the right audience (people who live or work within 20 minutes of your practice).
Display network PPC is generally better for businesses looking to benefit from simple brand recognition (unless you're doing remarketing). For example, a well-known company like Coca-Cola could benefit from display network image ads that never get clicked on. Because their brand is so recognizable, just the logo appearing in front of a consumer carries weight and could, down the line, influence their decision to buy Coca-Cola on their next trip to the grocery store.
How Does Pay-Per-Click Work?
When you set up your ads in AdWords, you set a max CPC (cost per click) and a max daily budget. Then you select the keywords you want your ad to appear for and create your ad. Your ad then goes up against your competitors in a bidding war to see who gets the top ad spots. Your ad position and actual CPC are determined by a number of factors:
Your ad's quality score
Your competitors' quality scores
Expected impact of ad extensions
Max CPC bid
Since max bid is not the only factor, ads with very high quality scores and a low bid can outrank ads with low quality scores and a higher bid. This is why it's important to fully understand AdWords, or hire a PPC company, before creating your first campaign. Inexperience can end up being very costly.
But please note: PPC is not part of SEO. If a dental website SEO company tells you they will get you in the top spot on Google with their search engine optimization, but then includes PPC as part of their SEO plan, they are not being transparent. PPC is paid advertising. SEO is improving organic rankings. And while paid traffic doesn't hurt your SEO, it doesn't help it either.

Is PPC Right for My Dental Practice?
The million dollar question! And, unfortunately, there is not a definitive "yes" or "no" answer that will apply to all. PPC works wonders for some dental practices, while it proves to be ineffective for others.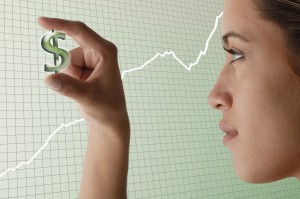 If you are in a competitive location wanting your ads to appear for popular keywords, the CPC is likely to be very expensive. Depending on your location, your keywords, and your quality score, it can cost anywhere from just a couple of dollars per click up to $30 or more!
So when is PPC effective?
PPC is a great way to jumpstart traffic to a new practice website. When a new site is first launched, it will take a few months for initial SEO efforts to produce results. In order to avoid a lull, you may want to consider running an AdWords campaign to start targeting prospective patients who won't yet see your site in organic search results.
Do you offer a new patient special? Perhaps you run a summer promotion for discounted teeth whitening? You may want to try using PPC ads to promote these specials.
Just make sure that if you do run PPC ads, you are carefully tracking the number of new patients generated from them. If, after a certain period of time, you aren't satisfied with the return on investment, you can easily stop your ads.
In the end, a solid, white-hat local SEO strategy is the best, most cost effective, option for long-term success, but PPC can be an effective way to supplement your organic traffic if you have the budget.
Learn more about how you can get new patients with AdWords.