Subscribing to a 'set it and forget it' thought process can be great when it comes to creating a tasty crockpot dinner – but not when it comes to your dental website.
Why? Because launching a practice website is only half the battle. To stay ahead of the competition in your area, you need to make sure that your website is engaging visitors, greeting them with accurate information, and generating qualified leads.
Below, we outline four easy ways to stay engaged with your website to ensure it's new patient-generating power.

1. Get Social
Posting regularly on social media is great. But are you sharing posts that include links back to your dental website? If not, you're missing out on the opportunity to direct qualified traffic and potential patients to your site.
When it comes to social media for your practice, aim to post 3-5 times each week with 1-2 posts containing a link back to your website.
2. Post New Blogs Regularly
Say it with us—"Google loves new content!"
And there's no easier way to get new content on your website than by blogging. Though you may not notice immediate results, keeping your dental website continuously updated with new and fresh content in the form of blog posts can greatly impact your site's traffic and rankings. Aim to post a new blog each week to help build your website's authority.

3. Update Specials
It's not uncommon for dental practices to run monthly service specials, but it is common to forget to update them on your website. And don't forget – you only get one chance to make a good first impression. Showcasing outdated promotions to new website visitors won't cut it.
Consider setting a monthly calendar reminder on your computer in order to remember what needs updating.
4. Refresh Your Look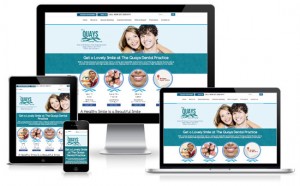 When was the last time your website got a makeover? The design of a dental website has a shelf life of roughly three to four years. If your design hasn't been refreshed recently, website visitors may find your site outdated. This is often the problem with practice websites that get great traffic due to high search engine ranking, but don't convert many new patients.
Bonus tip: The design isn't the only part of your site that needs upkeep – review your website content to make sure it's current with your practice offerings.