Choosing to take your practice to the next level by building or redesigning your website can be both exciting and scary. On one hand, you're opening yourself up to a world of potential new patients and the gratification of self expression by getting your website precisely the way you like it. On the other, you've got a lot of important decisions to make, starting with the look of your site.
At Smile Marketing, we believe that a great dental website design should incorporate all three of the following elements for success.
It Captures Your Brand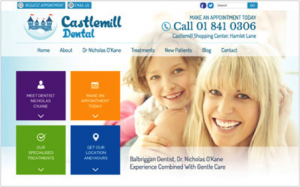 Before you flip the switch on your new dental website design, make sure you ask yourself the following question: Does this capture my brand?
Your dental website should be a reflection of your practice image, philosophy, and values. Is your practice modern and sleek? Your website design should echo that. How about charming and boutique with a relaxed atmosphere? Your site should mirror that, too.
To ensure your website captures your brand, make sure you select a designer or firm with experience bringing beautiful dental websites to life. If you're not exactly sure what your vision is quite yet, ask to see examples of their past work for inspiration. Learn more about practice branding here.
It is Responsive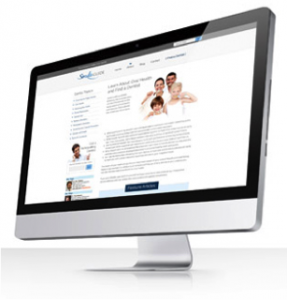 Making sure your dental website design is responsive is a must – and if your current website isn't responsive, that's an excellent reason to upgrade. This helps to provide a more pleasing experience for the visitor by allowing for easy reading and navigation, which in turn improves the overall conversion rate of your site. Whether or not your website is mobile friendly can greatly impact the number of new patients that decide to pick of the phone and call your office for an appointment since nearly 50% of website visitors are browsing on a mobile device.
In fact, after a recent algorithm update from Google, websites that remain unresponsive run the risk of losing search engine rankings. To find out if your dental website design is mobile friendly, enter your URL into Google's free mobile friendly test.
It Speaks to Your Target Audience
If you're a pediatric dentist, your website design should look much different than an orthodontist's. In fact, the same is true for general dentists, periodontists, and every specialty in between. Why? Because the look of your dental website design needs to be a reflection of your patients. Prospective patients want to see themselves in the patients portrayed on your site.
This can largely be accomplished by the type of photos you choose to use on your website. For example, a pediatric dentist should showcase photos of children as opposed to adults. On the other hand, a general dentist may choose photos of smiling families, while an orthodontist opts for teens in braces. While this may seem obvious, you'd be surprised at how many inexpensive, template websites use inappropriate photography.
Check out even more unique dental website designs by visiting our design gallery.