We talk a lot about different digital marketing strategies to get more new patients using the internet. And whilst they are vital for new patient flow, one of the best ways to get new patients easily is through existing patient referrals.
When your existing patients are thrilled with your service and dental care, they want to tell their friends and family about their positive experience. The level of trust in the new patient recommendation is far more than in a Google review.
They're also more likely to recommend friends and family who are interested in the same type of services. For example, if you've just completed a smile makeover for a patient who's been treated with a full set of porcelain veneers, they're more likely to show it off to people considering veneers. Or, say someone went through orthodontics at your practice, they will most likely recommend patients who are also considering straightening their smile. This is perfect for you to grow big-ticket services or niche services unique to your practice.
So, now we know referral strategies work and grow your practice, how do we go about promoting them? Below are 5 examples of successful referral strategies to grow your practice easily through your existing client base.

1. An Incentivised Dental Patient Referral Program
The dental team at Six Twelve Family Dental does this really well. They encourage new patients through a successful referral campaign offering both parties a $25 voucher to use within their practice.
Think about it, if a patient has had a great experience with you they'll naturally want to tell people about it. If there's an incentive in it for them, it'll encourage them to tell even more people about their positive experience in your practice.
Another example, you could offer a discount % to the new and existing patient. Dentist Dr Kav Bhinder at Ashburton Dental Care does this perfectly, offering a 15% discount to both the new and existing patient – it's a win, win.
You can send this referral offer out to your client base through an email campaign, encouraging them to tell their family and friends about you.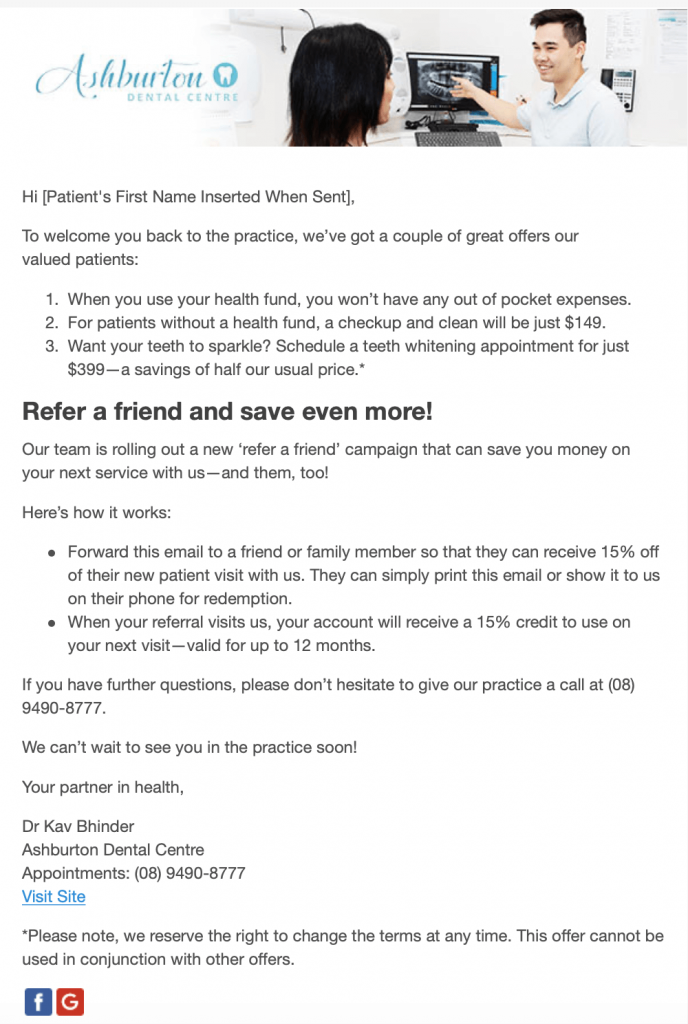 Here are some other ideas on what to use as your referral campaign incentive:
$15 coffee voucher for you and a friend
Refer 3 friends and have your next dental checkup free
Refer a friend and get a free whitening pen
Don't forget to leverage social media. The most successful referral campaigns have photos and posts shared on Facebook and Instagram. It's an easy way to remind patients of your referral offer and encourages patients to tag their friends in the comments.

2. Create Your Own Loyal Fans
Imagine having your patients grow your practice for you through raving reviews and referrals? To boost your referral program, even more, your patients need to turn into "raving fans".
Question is, how do you turn an ordinary patient into a "raving fan"?
"To create raving fans you have to take patients' expectations of what their dental visit is going to be and turn it upside down. Take everything negative they expect to experience and turn it into a positive." – says Dr Mark E. Hyman from TDA Perks Program.
You need to do more than just ask your patients to refer their friends! Provide the patient with a memorable dental experience, not just a visit. Some other things you can do to go the extra mile is:
Send the patient a hand-written thank you card following their first appointment.
Call them post any dental treatment to check how they're feeling.
Send them a happy birthday message on their special day.
Email occasional e-cards to recognise important events like Mothers Day, Fathers Day, Easter or annual holiday events.

3. Use Your Social Media to Boost Referrals!
Don't forget to keep reminding your patients through your social media channels to refer their friends. Social media can reach hundreds of prospective patients in your local area. Even just a simple post like the team at Six Twelve Family Dental did below, this gentle reminder can do wonders for your practice.

Remember, try not to be too pushy or salesy. Be gentle and gracious in your approach to special offers and referral campaigns.

4. Plant the Seed from the Start!
Word-of-mouth is the best and easiest form of advertising a business owner can get. You should be planting the seed early in the process, tell a new patient how you want to give them the greatest dental experience so they'll want to tell all their friends about you.
At the end of their appointment, you can give them a new patient smile pack which includes some oral health essentials and a handwritten thank you card.
Your card can say something like, "Thank you for choosing us as your dental health card provider! Smiles from the team at [PRACTICE NAME]."
This is the greatest first impression you can make on a new patient. Along with an incredible first experience with you, they will not forget how awesome you are and how much they want to refer their friends to your practice.

5. Use Optimised Digital Marketing that Supports Dental Patient Referrals
Over a decade of analysing dental website data has shown us that even referral patients will visit your website before converting. Whether they want to learn more about you or their new dentist, get your contact details or confirm your services, they will go to your website before making their appointment.
With that said, it's vital to get your online experience up to the same high-standards as your in-practice patient experience.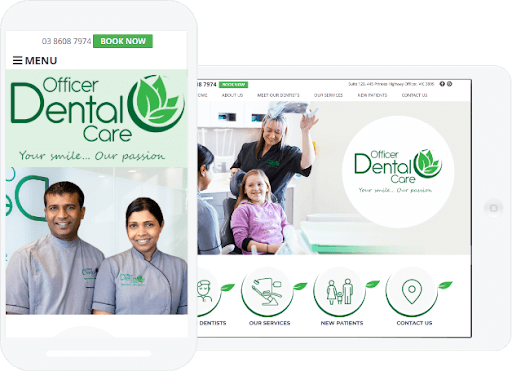 Your practice branding and personality should be shown-off through your website and social media profiles. When a prospective patient visits your site, they should be thinking, "Ah, I see exactly why Jess likes going to this practice."
In this day and age, you need an updated and fully responsive website, an active social presence and a ton of 5-star Google reviews. All these things support the amazing work you do and naturally encourage referrals.
Is your current online presence working to get you more new patient referrals? We've helped hundreds of dentists, like you, to get more new patient referrals through our tried and tested formula for dentists.