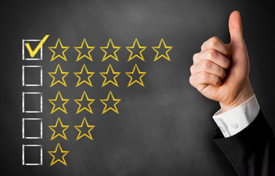 Your online reputation. Most practices don't take it seriously. Until they get stung by that first one-star review.
Over 85 percent of patients do online research before scheduling a doctor's appointment. Further, 84 percent of consumers trust online reviews as much as they'd trust a personal recommendation.
So a 2.5-star average rating on your Google profile isn't something to be taken lightly.
How do you handle negative online feedback? If you are a Premium Smile Marketing client, your Digital Marketing Specialist will help you navigate the process.
In some cases, a review may violate Google's terms of service (explicit material, releasing confidential information, etc.). In this case, you can "subpoena" Google to get the review removed.
If the review is legitimate, here are a few steps you can take to protect your reputation:
First, don't panic! A poor review, while not optimal, is often seen as an outlier if all your other reviews are glowing.
Next, respond to the review by writing an unemotional, professional response acknowledging the reviewer's concerns.
Take the discussion offline. Contact the reviewer via phone to discuss the concerns one-on-one.
If the conversation goes well, the reviewer may agree to remove the negative review. If not, other prospective patients who notice your response online will see that you take your patients' concerns seriously.