COVID-19 Cleanup
It's Time to Work ON Your Dental Practice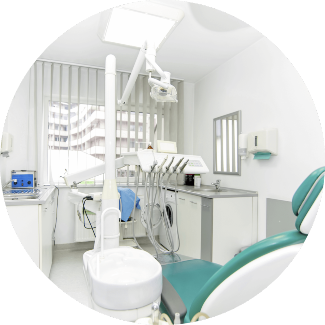 We've been sharing many ideas for how to enhance your digital marketing during slower schedules or gaps between appointments. This week we are stepping away from the screen and getting active in your practice with tips on how to improve your physical space.
GET READY FOR THE NEW NORMAL
When your schedule fills up again, patients will return to a heightened experience and your staff will be better prepared to serve them. If you're finding gaps in your patient schedule, below are several areas of your practice you can start improving today.


EXTERIOR
Your entryway, parking area, and front porch are all part of the patient experience. In fact, they're the first impression patients have when visiting your practice. An uncluttered and appropriately decorated entryway will kick off the patient experience on the right foot.
If you're feeling really ambitious, do some gardening or add some potted plants.

SANITISE
Now more than ever, it's important to keep your practice clean and sanitized. Tackle areas and items you may have neglected in the past, like toys, magazines, or books in your waiting room. If you can't sanitize in between appointments, you might put these items away for now. Patient safety is your top priority.
A spick-and-span office makes your practice environment healthier and more gratifying.

MAINTENANCE
Office space requires ongoing maintenance. Maybe you have a dripping faucet. A small hole in the wall. Or a cabinet door that's off its hinges. If it won't interfere with your current patient workload, now's the time to address those lingering maintenance issues.

PAINTING
When your schedule is packed with appointments, layering a fresh coat of paint on the walls isn't a priority. Take advantage of this potentially slower time. Freshly painted walls will transform the interior of your practice, making the environment more welcoming.

ORGANISE
Have a neglected closet or drawer that could use organisation? Take an inventory of your consumables and remove or recycle items you no longer need. Toss old magazines and reevaluate (or start) your recycling program to streamline this process. Organising your practice will make you and your staff more productive.

PAPERWORK
Piles of paperwork and misplaced sticky notes will clutter up your practice, putting a subtle drag on your efficiency and mental clarity. Create processes and procedures for your team to keep your workspace clean and productive. This is also a good time to revise intake forms and other out-of-date paperwork.
---
SHARE YOUR PROJECTS WITH US
If you decide to tackle one of these ideas, and want to share the experience with your colleagues, send us before-and-after photos of the completed project. We'd love to showcase your COVID-19 cleanup projects on our Facebook page.
We're sharing tips and suggestions on our Facebook page daily to help you navigate this time. We're also sharing timely graphics you can post to your own page.